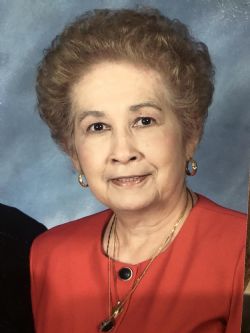 Lillie Damian

Lillie Damian
February 19, 1938 - September 2, 2020
"Her children rise up and call her blessed; her husband also, and he praises her."
-Proverbs 31:28

Lillie Aguilar Damian, of Freeport, TX, went to be with the Lord on September 2, 2020 in Pearland, TX.

Lillie was born on February 19, 1938 in San Antonio, TX to Guadalupe (Lupe) Aguilar Sr. and Carlotta Mata Aguilar. She moved to Freeport in 1952 and met her husband of 66 years, Ignacio Damian Sr. shortly after. Lillie was known for loving her family, from her husband, children/grandchildren to a multitude of nieces & nephews, she loved big, she loved well, and she was, in turn, loved by so many. She was beautiful inside and out, always dressed to impress and didn't miss a day without her favorite perfume. She loved attending church, dancing, watching her favorite shows on TV, shopping, and spoiling her family with her infamous Christmas Candy. She was cherished, beloved, and has left behind a family that can truly rise up and call her blessed.

Lillie is survived by her children, Ignacio Damian Jr. (Anita), Ernest Damian (Donna), Josie Lucas (Steve), Ricky Damian (Stacy), Brenda Damian; 12 grandchildren; 17 great-grandchildren; brother, Pete (Rosie) Mata Aguilar.; and numerous nieces, nephews, and cousins.

Lillie is preceded in death by her husband, Ignacio Damian Sr.; her parents, Guadalupe (Lupe) Aguilar Sr. and Carlotta Mata Aguilar; siblings, Guadalupe Mata Aguilar, Jesus Mata Aguilar, Antonia (Toni) Aguilar, Theresa Aguilar Mata, Patrocinio (Pat) Mata Aguilar, and Juan (Johnny) Mata Aguilar; and great-grandson, Levi Damian Graham.

Serving as Pallbearers, Matthew Furnari, Seth Damian, Steve Martinez, Kim Doyle, Pete Aguilar Jr., and Richard Cisneros.

A private funeral service for Lillie Aguilar Damian, 82, of Freeport, TX will be held at Lakewood Funeral Home in Lake Jackson, TX on Wednesday, September 9. Graveside service to follow.

Facial masks and/or coverings are required, along with social distancing.