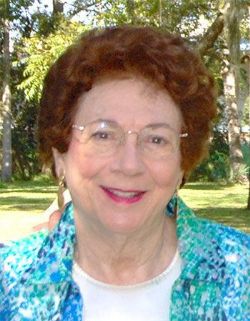 Marilyn Joyce Galloway

Marilyn Joyce Galloway
April 11, 1931 - August 26, 2020
Marilyn (Toni) Galloway passed away peacefully at her home on August 26, 2020. She was born on April 11, 1931, in Tulsa, Oklahoma, to Joe and Roan Lubowski and spent most of her formative and teen years in Houston, Texas. She leaves behind a legacy of care, faith, kindness, generosity, and animal advocacy.

After graduating from High school in Houston, Toni attended Mexico City College where she majored in Spanish. She subsequently taught both Spanish and English for over 30 years at Lake Jackson Junior High School. Her former students remember her as a very passionate teacher who took her profession quite seriously while creating a fun atmosphere in her classroom. After retiring as a teacher, she volunteered at several food banks and tutored adults who were striving to improve their reading skills. Toni loved animals, especially cats, and was a very strong advocate against animal cruelty. She owned many cats throughout her adult life. She was a woman of faith and a member of the First United Methodist Church in Lake Jackson.

Toni is predeceased by her wonderful husband, Glenn Galloway; and her brother, Charles Lubowski.

She is survived by her daughter, Gina Lepper; son, Steve Lepper (Debbie); grandchildren, Steven Lepper (Erin), Philip Lepper (Beth), Travis Lepper, and Lauren Garcia; and great-grandchildren, Emma, Lucas, Sydney, and Megan. She is also survived by her cat, Spunky, who was her constant companion.

The family would like to acknowledge the wonderful caretakers from Caring Senior Service of Brazoria County and hospice nurses from IPH Home Health Care and Hospice who kept Toni entertained and comfortable during the final months of her life. Their help and support were invaluable to Toni and her family. In addition, the family would also like to thank and acknowledge her great neighbor and friend, Isaac Sanchez, who visited and looked after Toni daily for many years.

Due to the corona virus pandemic, the family will have a private ceremony for Toni. Those planning an expression of sympathy are asked to consider the SPCA of Brazoria County.