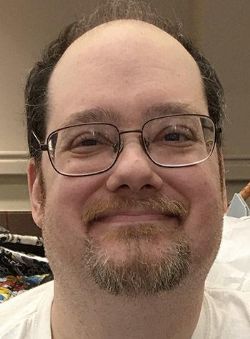 Christopher Gardner McEwen

Christopher Gardner McEwen
March 10, 1980 - September 3, 2020
On March 10th, 1980, a bright light was sent from heaven in the form of a baby boy, to the delight of his parents Janice and Tom McEwen. He was joined several years later by a baby brother, Brad.

Chris never met a stranger and could see the true heart of each person. He loved baseball, music, the weather, and especially, game shows. His favorite was "Wheel of Fortune," where he frequently solved the puzzle before the TV contestants. Many depended on Chris for his daily weather reports.

Chris had a difficult life, but he faced it with cheerfulness, which impressed everyone who met him. He earned dozens of medals in Special Olympics, and his challenges did not prevent him from graduating from Brazoswood High School, where the class of 2002 honored him with a standing ovation as he crossed the stage to receive his diploma.

Chris enjoyed volunteering in the office at Chapelwood UMC and at the Brazosport Museum of Natural Science. He also had many friends he enjoyed visiting with at his dayhab, where he was the unofficial "boss." He was notorious for sneaking off to Buc-ee's #1 to buy a Dr Pepper and flirt with the cashiers.

The essence of Chris is hard to distill, but those who knew Chris loved his unique character, his humor, and his way of seeing the world.

The light that was Chris left on September 3, 2020. He is survived by his parents, Tom and Janice McEwen, brother; Brad (Shanna), niece; Logan and nephew;; Rhett, and his girlfriend of 28 years, Cynthia Renee Carter.

Visitation will be at Chapelwood UMC on Wednesday, September 9, from 6 to 8 p.m. Celebration of Life will be at Chapelwood on Thursday, September 10th, at 1 p.m. In lieu of flowers, donations to Special Olympics, Lake Jackson SPCA and the Museum of Natural Science would be appreciated.