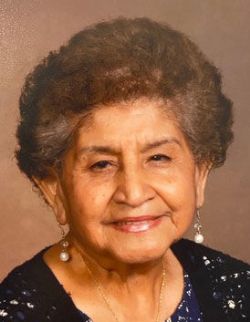 Helen Montiel

Helen Montiel
June 18, 1936 - September 9, 2020
Helen Damian Montiel of Freeport, Texas went to be with her Lord on September 9, 2020 at her home surrounded by her loving family.

Helen Damian Montiel was born on June 18, 1936 in the East End of Freeport to Rosalio and Petra Damian. She was happily married to the love of her life, Robert Montiel Sr., for 59 years. She adored her children, grandchildren, great grandchildren, nieces, nephews, and her countless cousins and dear friends. She was a pillar in the community. Helen never met a stranger she didnít like. She was known for being family oriented, kind, honest, hard worker, giving and a humble woman, but her foundation was built on love.

Helen is preceded in death by her husband, Robert Montiel Sr., her parents Rosalio Sr. and Petra Damian, her son Ruben Montiel, sister Lucy Soria Damian, brothers: Rosalio Damian Jr., and George Soria Damian.

Helen is survived by children, Lucy (Tony) Martinez, Amparo Aponte, Robert Montiel Jr., George (Minh) Montiel, and Michelle (Jose Luis) Perez. Seven grandchildren, Eleven great grandchildren and Two Fur grand babies. Brother Leon Damian Sr., Brother Sidney (Margret) Damian and sister-in-law Minnie Damian and numerous nieces, nephews, and cousins.

Serving as Pall Bearers: Stephen Montiel, Mykael Montiel, Joseph Martinez, Jarvis Davis Jr., Fernando Rodriguez, and Jarvis Davis Sr.

Honorary pall bearers: Carlos Aponte, Jarrell Montiel, Jerimiah Montiel, Jerric Montiel, Carson Gifford, Harrison Gifford, Michael Damian, Leon Damian Jr. and Ross Garcia III.

Due to Covid 19 restrictions, it breaks our hearts not to celebrate the lost of our mother the way she deserves.

Private Funeral Services will be held at St. Maryís Star of the Sea in Freeport, Texas.

Friday, September 11, 2020 walk through visitation (No Sitting) Viewing from 7-8 p.m.

Saturday, September 12, 2020 Private Mass at St. Maryís Star of the Sea at 10 a.m.

Facial Masks and hand sanitizer are required, along with Social Distancing.

Flowers and plants may be sent to St. Maryís Star of the Sea Catholic Church, 1019 West 6th Street, Freeport, Texas 77541.