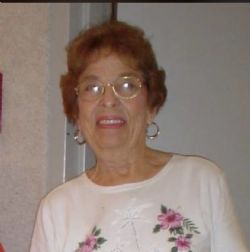 Carol Dolores Reynolds

Carol Dolores Reynolds
December 13, 1934 - September 10, 2020
It is with great sadness that the family of Carol Dolores Reynolds announces her passing on Thursday, September 10th, 2020 following a short illness. Dolores was born on December 13, 1934 to Jesse and Lila Williamson in Needville, Texas.

The family moved many times before settling in Freeport, Texas where she met her husband of 54 years, Harvey Gene Reynolds.

Dolores was a loving daughter, sister, wife and mother. She loved her little sister Judy like a child and never let go of being her big sister. As a mother she was involved in all her children's school activities and once they were grown some of her favorite times were spent fishing at the family bay house on Titlum Tatlum Cut.

Dolores's talent as an artist became obvious when she began painting as a therapeutic activity following the death of her daughter Brenda. This love of art was shared by her sister Judith Link. Her painting and art skills grew and grew and culminated in teaching "HER" class at the Brazosport Art League where she spent many years filling various positions and working at BAL.

She is preceded in death by her parents Jesse and Lila Williamson, husband Harvey Gene Reynolds, daughter Brenda Carol Reynolds and most recently her little sister Judith Link.

Dolores is survived by her children Rhonda Moritz (Gary), Rebecca Thurman (Gary), and Jay Reynolds. Three grandchildren Jessica Snyder (Steven), Richard Garza (Claudia) and Madelyn Gamm-Reynolds, four great grandchildren, 3 great-great grandchildren and special friend, nephew-in-law Gerald Reynolds.

A celebration of life for Dolores will be held at Lakewood Funeral Chapel in Lake Jackson, Texas on September 15, 2020. Family will receive friends at 10:00 a.m. followed by the service at 11:00 which will be officiated by Kevin Hudson. Pallbearers will be Richard Garza, Jeremy Nix, Steven Snyder, Jeffrey Link, Josh Strickland and Israel Chacon. Interment to follow at Restwood Memorial Cemetery.

Donations can be made in memory of Dolores's to the Brazosport Art League, 400 College Blvd, Clute, Texas 77531.