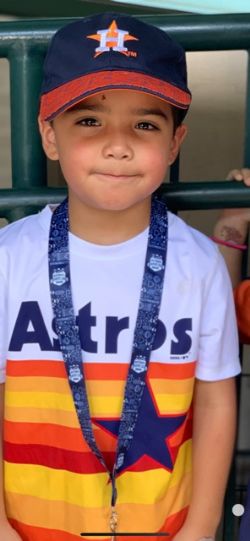 Josiah Christopher McIntyre

Josiah Christopher McIntyre
May 2, 2014 - September 8, 2020
Josiah Christopher McIntyre "Carlos Correa", age 6, of Lake Jackson, Texas passed away on September 8, 2020.

Born on May 2, 2014 to Anthony McIntyre and Maria Castillo. He was a first grade student at Madge Griffith Elementary. He enjoyed spending time with his family and playing outside every chance he got. He loved having nerf gun wars and watching wrestling with his sister and cousins. You could catch him playing baseball any time he could get his hands on a ball or bat. The Houston Astros were his favorite baseball team and Carlos Correa was his favorite player. Josiah had a contagious smile and could make anyone smile. He gave the warmest hugs and loved to help other people.

Josiah is preceded in death by his grandpa, Juan A Castillo; and great-grandpa, Herbert Gonzales Torres.

He is survived by his mother and father; sisters Alayna Flores and Monserrat McIntyre; brother, Anthony Gabriel McIntyre; grandma, Teresa Castillo; grandparents, Ray and Natalie McIntyre.

Funeral services will be Thursday September 17, 2020. The viewing at Lakewood Chapel and mass at St. Jerome's Catholic Church will be private but the burial is open to family and friends. He will be buried at Restwood Cemetery following the mass.

The pallbearers will be David Cantu, Juan Castillo, Bruce Thomas, Randy McIntyre, Aaron McIntyre and Race McIntyre.

Along with honorary pallbearers Emmanuel Cantu, Elijah Cantu, Kaden McIntyre, Steven McIntyre, Anthony Gabriel McIntyre, Ty Perkins and Allen Gordin.

To celebrate the life of Josiah we are encouraging everyone to wear Astros attire.