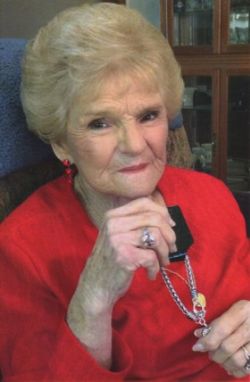 Vernice "Jean" Geneva Ledford

Vernice "Jean" Geneva Ledford
November 28, 1926 - September 16, 2020
Vernice Geneva (Jean) Leflet Ledford, of Lake Jackson passed away on Wednesday, September 16, 2020 at Carriage Inn in Lake Jackson, Texas.

Jean was born in Mira, Louisiana to Clarence R. and Annie Lee (Bee) Long. She was raised along with her brother and two sisters on a farm in northern Louisiana. One brother passed away as an infant. Jean was valedictorian of her graduating class and was awarded a college scholarship. However, she was unable to accept it because times were hard, and her parents couldnít afford to pay for her books.

Jean and her first husband, Hershel Herring, moved to the Brazosport area in the early 1950ís when he was hired by Dow Chemical. It was a great move for our family. As her children grew up, Mother participated in the activities in which we were involved - scouting, sports, school events, plus church activities. Jean was an excellent homemaker - baking, sewing, and decorating were just a few of her skills. Her children, grandchildren, and friends have all benefited from her talents.

Mother didnít work outside the home until us kids were grown. She was employed by KBRZ radio, Cardinal Construction, and The Brazoria County Fair office in the Brazosport area. Later on, she was employed as bookkeeper at Jasper Like New Collision Repair in Jasper, Texas.

Survivors include daughters, Cynthia Hulett (Charles) and Donna Hornback (George), all of Lake Jackson; grandchildren, Michael Walters (Carri) Daniel Walters (Rachel), Carrie Clark, Nathan Crews (Nia), Rachel Crews, Scott Hawley (Ashley), and Stephanie Jones (Cameron); and 14 great-grandchildren.

She was preceded in death by husbands, RE Leflet and Frank Ledford; her son, Stephen Wayne Herring; granddaughters, Kristin Noelle Walters and Sarah Michelle Hawley; her parents; plus her brothers and sisters.

Visitation will be held Monday, September 21, 2020 at 10:00 a.m. at Church of Jesus Christ of Latter Day Saints, 502 Southern Oaks Drive, Lake Jackson. Funeral services to follow at 11:00 a.m.

We would like to thank the staff and caregivers at Carriage Inn and AMed Hospice Team for the loving care they gave to our mother.

In lieu of flowers, please make donations to the Alzheimers Association, the SPCA, or charity of your choice.