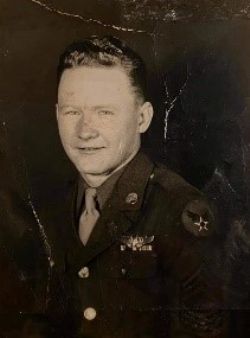 Thurlin Dwight Thacker

Thurlin Dwight Thacker
September 16, 1924 - September 29, 2020
Thurlin Dwight Thacker, 96 of Angleton, died Tuesday, September 29, 2020 at CHI St. Luke's Hospital. Born September 16, 1924 in Greasy Creek, Kentucky, he was the son of the late Roy and Anna Thacker.

In addition to his parents he was preceded in death by his wife of 56 years, Florida and his Grandson Dwight Thacker. Survivors include his daughter Marsha Mathes and husband Dan of Lake Jackson, TX and son, Tom Thacker and wife Belinda of Jones Creek, TX. Grandchildren: Steve Thacker (Maurie), Jim Thacker (Becky), Karen Capps (Aaron). Great Grandchildren: Sydney Thacker, Baily Thacker, Ben Thacker, Jake Thacker, Callie Fishbeck, Tyler Fishbeck, Eli Fishbeck and Trent Thacker. He was also blessed with Step-Grandchildren: Danny Mathes (Gwen) and Amy Broussard (Travis) and Great Grandchildren: Emily Leger (Colton); Kayla Wheeler (James); Nicole Mathes and Michael Mathes and Great-Great grandchildren: Gabriel, Jayse and Malia Wheeler.

He was a proud veteran of the Army Air Corp (later known as the United States Air Force) were he took great pride that he flew B-25 Bombers. He was an accomplished pilot, he flew crop dusters, bi-planes and numerous other smaller aircraft.

Dwight joined the Army Air Corp during WWII. When he returned home to his beloved wife, he went to work for Republic Steel and attended the University of Kentucky. He then hired on with North American Aviation as a Senior Flight Test Engineer where he tested F100s, F4, F86 and A3J Attack Bombers and eventually worked on the NASA Mercury, Gemini and Apollo Missions as an Aeronautical Engineer and helped develop the "Martin Baker Ejection Seat". Dwight retired just as the Space Shuttle Program was starting. The Astronauts affectionately called Dwight "Red" because of his red hair. The family moved back to Kentucky and Dwight went to work for the Federal Bureau of Mines and Minerals as a Certified Mine Inspector where he was known to be a very uncompromising tough hand with his meticulous standards. Once he retired, he and Florida moved to Texas to be near their children and immediate family. He truly was an intelligent wonderful kind loving man and he lived a wonderful adventurous life.

Due to Covid-19 restrictions, a family and close friend's only graveside service will be held at Gulf Prairie Cemetery in Jones Creek on Saturday, September 10, 2020 with David Jordan officiating.

The family respectfully requests that in lieu of flowers, memorials may be made to your favorite charity in his honor.