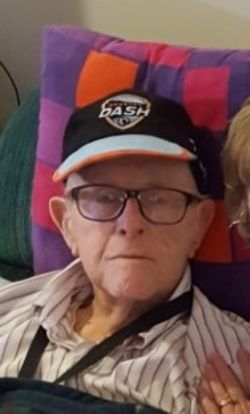 William Lowry Howard

William Lowry Howard
December 25, 1922 - October 5, 2020
It is with great sadness that the family announces the passing of Dr. William L. Howard, Sr., on October 5, 2020 at the age of 97. Bill is survived by his daughter, Betty (BJ) Wise (husband Cary), and his son, William (Bill) L. Howard, Jr. (wife Marguerite). Bill also leaves four grandchildren, Michael Walls, Mark Walls, Michelle McGuckin and Amanda Howard, and seven great-grandchildren. He is predeceased by his wife of 51 years, Betty Howard, and grandson, Jason Howard.

Bill was born in Sherman Texas on December 25, 1922. He attended high school in Oklahoma City and graduated as Valedictorian at age 16. He then entered Oklahoma University where he earned his Master's degree in chemistry and physics graduating Summa Cum Laude.

Upon the outbreak of WWII, Bill enlisted in the US Army and served in Hawaii and Iwo Jima.
After the war, Bill received a Rhodes Scholarship to further his education at Oxford University in England. An exception was made by the Rhodes committee during those years after the war that allowed a recipient to bring their spouse with them to England, so he married Betty in 1948 and they began their life together. It was at Oxford that Bill received his PhD.

Bill and Betty came to Lake Jackson, Texas in 1955 where Bill worked as a chemist for Dow Chemical in research and development. Bill spent 35 years at Dow where he developed several patents for Dow and mentored many young chemists. He was known as the "go to" person to help solve problems that no one else could.

Bill was active in the community with the American Legion, various nature clubs, and Coastal Corners square dance club. He also served as a reserve officer for the Brazoria County Sheriff Department as well as a docent for the Natural Science museum.

His love of science, nature, and the outdoors was passed on to his family, and celebrated early on with a yearly trip to Garner State Park. Many a family member, including grandkids, have had a teaching moment or two under a tree overlooking the Frio River. Bill was always in the teaching mode and many have benefited from his wisdom. One of Bill's grandsons recently ran into an old friend of Bill's who told him, "I always wondered what it was like to be Bill, and walk into the room, and know you were the smartest one there".

Bill loved all music, and even though he couldn't carry a tune in a bucket, loved to sing along with gusto to the Gilbert & Sullivan operettas and hum along to the beautiful Viennese waltzes. Many will remember his theatrical role at The Center as the aging count in the stage play, "Amadeus".

Bill was a staunch conservative Republican who loved his country and was a true patriot. He was one of the last remaining of the Greatest Generation. Bill always welcomed a good debate based on logic and facts, and never held a grudge against anyone who held the opposing view. Bill's kindness, steadfastness and gentle ways will be forever missed by those who knew and loved this amazing man.

A special thank you to Parsons House assisted living facility in Cypress, TX and their wonderful caregivers, who had the pleasure of knowing and caring for Bill in his later years.

Funeral Services will be held at 1pm, Monday, October 12th at Lakewood Funeral Chapel. Family will receive friends at 10:30am until the service.