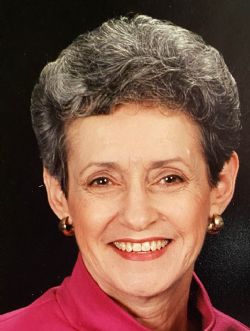 Geraldine Elder

Geraldine Elder
April 9, 1932 - November 16, 2020
Geraldine (Gerry) Broussard Elder died peacefully in her sleep on Monday, November 16, 2020.
She was born on April 9, 1932 to Arthur and Maude Broussard in Abbeville, Louisiana. They moved to the Brazosport area when she was 8 years old and spent most of her life in Lake Jackson.

She was a member of St. Mary, Star of the Sea Catholic Church in Freeport, where she married Thomas (Tom) Elder on February 8, 1952, at the children's mass. When St. Michael the Archangel Catholic Church in Lake Jackson was established, she and Tom became charter members and remained faithful parishioners until her death.

She was preceded in death by her husband Thomas W. Elder, son Thomas G. Elder, parents Arthur and Maude Broussard, sister Mary Lou Oldham, brother Jim Broussard and son-in-law Gary Forse.

We have fond memories of Mom making doll clothes with us and decorating doll houses. Mom's handmade quilts will be enjoyed by all of us for years to come. We enjoyed delicious food like gumbo, potato salad and egg custard at Christmas, and picnic lunches on long car trips to Kentucky or Louisiana. Most school days we woke up to the sound and aroma of Mom making cush-cush in her cast iron skillet. We've grown to appreciate the love she showed us in preparing hot meals every evening for our family dinner. We were always impressed to hear Mom speak French with her relatives from Louisiana. One of her greatest joys was rocking and humming our babies to sleep. The grandkids had fun learning to play poker with Grandma. Mom and Dad loved playing cards with family and friends. They also enjoyed working on home building projects together as their family grew.

Gerry is survived by her children Margaret Reed, Camille Forse, Linda Miller, Helen Zook and husband John, Sara Smith and husband Eddie and John Elder and wife Stacey, sisters Flo Hall and Maudlynn Drake, brother Tim Broussard and wife Mary Louise, sister-in-law Nancy Elder, brother-in-law Jim Elder and wife Margaret and a host of nieces and nephews.

'Grandma' will be greatly missed by her grandchildren Meredith Reed, Austin (Catherine) Reed, Allison (Brendan) Shaughnessy, Stephen (Shelley) Forse, Kenneth Miller, Katy Miller (Benny Thomas), Brian (Meredith) Miller, Brittany (Chris) Chambless, Sam (Destiny) Miller, Adam, Levi and Benjamin Zook, Elizabeth Griffin, Thomas (Hannah) Smith, Kevin (Katie) Elder, Nicholas Elder, Christopher & Alex Bennett and Lauren & Phillip Elder; 22 great-grandchildren with 3 more on the way and one great-great-grandson.

Donations in Gerry's memory may be made to Our Lady Queen of Peace Catholic School, 1600 Highway 2004, Richwood, Texas 77531 or Society of St. Vincent de Paul at St. Michael Catholic Church, 100 Oak Drive South, Lake Jackson, Texas 77566.

A funeral mass will be celebrated at 2pm on Friday, November 20, 2020 at St. Michael Catholic Church. Visitation will begin at 7pm until 9pm with a Vigil service at 7:30pm on Thursday, November 19, 2020 at St. Michael Catholic Church.