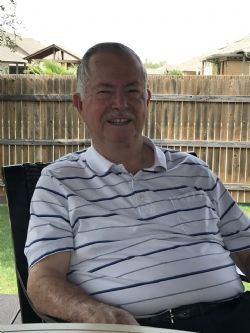 Donald Paul Kohls

Donald Paul Kohls
November 25, 1942 - November 17, 2020
Donald P. Kohls, 77, of Jones Creek went home to our Father after a sudden passing on November 17, 2020.

Don was preceded in death by his parents Alfred and Thelma Kohls, and Jeannette, his loving wife of 40 years, as well as his brother Larry Kohls.

Don worked for Dow Chemical for nearly 32 years in the epoxy lab, and was the owner of Donís clocks in downtown Lake Jackson where he practiced this lost art for 51 years.

Don is survived by his children John, Matt, Ronnie and Edie Kohls and grandchildren Rick, Rylie and Reid Kohls.

Don enjoyed spending his time bowling, wood working and at any casino he passed by. There was no slot machine too tough.

Honorary pallbearers are Joe Burns, Bobby Wall, Joe Harrison, Clayton Williams, Skip Rodgers, JP Cravey, Arvid Erikson, Bill Horan, John Neal, Tom Kocurek and Cody Clinton.

There will be a viewing at Lakewood Funeral Home in Lake Jackson, Friday November 20th from 7 to 8 pm and a private graveside service on Saturday.

Anyone attending is asked to follow CDC and social distancing guidelines to ensure the safety of all. We thank everyone for their love and support, unfortunately due to COVID -19 we must receive your support and affection with social distancing.