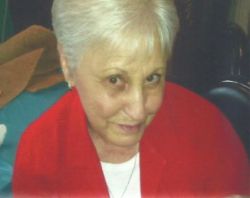 Donna Gaile Smith

Donna Gaile Smith
September 8, 1938 - November 26, 2020
Donna Gaile Smith, 82, from Sweeny, TX, passed away on Nov. 26, 2020. Born on Sept. 8, 1938 in Blackburn, Oklahoma to Charles and Dora Burge, she married Freddie Smith on June 9, 1956. They moved to the area in 1957 when Freddie transferred to the Phillips 66 plant in Old Ocean.

Donna was a wonderful wife, mother, grandmother, great grandmother, sister, aunt and friend. She worked in the electronics business for many years. After she retired, she was a volunteer with the Sweeny Hospital Ladies Auxiliary. She enjoyed this immensely and formed many lasting friendships. She was also an active member of New Shores Baptist Church (formerly the First Baptist Church of Old Ocean) until her health declined in late 2018. She also was a member of the Red Hat Society for many years. She had a great time shopping for red and purple hats, accessories and outfits. She enjoyed dressing up for events and meetings. Donna also enjoyed cooking, sewing, crocheting and knitting. As a couple, Donna and Fred bowled for many years. They also spent countless hours at the beach fishing and collecting seashells.

Motherís happiest times though was the time she spent with her grandchildren and great grandchildren. She was the go-to babysitter and would have had every one of them every weekend. She said they would grow up soon enough and she would have them as long as they wanted to stay. She watched many ball games, band concerts, 4-H shows, anything the kids were participating in.

Donna leaves behind her husband of 64 years, Freddie Smith, daughter Tammie (Joey) Holder of Needville, sons Barry (Vicki) Smith of Colorado Springs and Dale (Pat) Smith of Angleton. Grandchildren Tonya (James) McLennan of Edna, Sharon Cavasos of Rosenberg, Sherrie (Andrew) Storey of Colorado Springs, Steven (Miranda) Smith of Danbury, Wynn (Jennifer) Smith of Angleton and Ashley (Ryan) Villarreal of Angleton. Great grandchildren Cayden, Audrey, Isis, Cody, Emma, Lane, Levi, Camden, Kyra, Kaylie, Landon, Ava and Rylo. Sisters Betty Kempf of Midland and Sandy (Ken) Roe of Springtown and sister-in-law Sandy Smith of Sweeny. There are many nieces and nephews that Donna enjoyed watching grow up and their children as well.

Donna was preceded in death by her parents Charles and Dora Burge, in-laws Roy and Vivian Smith, brothers and sisters, Eva Mae Burge, Oran Burge, Pearli Burge, Charles Burge Jr, Earl (Martha) Burge, Ina Mae (Kenneth) Porter, Rella (Don) Stains, Milton (Zoe) Burge, and Alvin (Billie) Burge, Deloris (Joe) Higgins, Larry Burge, brother-in law Gary Smith, infant granddaughter Tristan Michelle Springer, infant great grandson James Ray Hendricks, grandson Brian Smith, nephews Lee Kempf and David Smith.

A special thank you to Lisa Smith (niece), Pat Smith (daughter-in-law) and Joey Holder(son-in-law), Linda Hensley, RN Lizette and CNA Coty for always being there with a helping hand.

In lieu of flowers, please make memorial donations to the Sweeny Hospital Ladies Auxiliary, C/O Dani Mikel, 3018 County Rd 5, West Columbia, TX 77486. If you prefer to donate to Donnaís church, she was a member of New Shores Church, Sweeny Campus, 6303 FM 1459, Sweeny, TX 77480.

A memorial service will be planned at a later time.