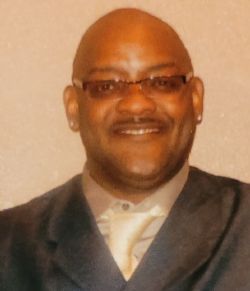 Darryl Todd Urps

Darryl Todd Urps
June 23, 1970 - December 27, 2020
Services for Darryl Todd Urps, 50 years old of Clute, TX will be Private at Lakewood Funeral Chapel with Rev EF Gooden officiating.

Darryl Urps was born June 23,1970 to Hermann Wright Jr and Delbra Urps in Bay City, TX. Darryl gave his life to the Lord and was Baptized January 19, 2014 at Free Spirit Worship Center of Freeport, TX by Pastor Rev James L Williams. Darryl was united in Holy matrimony to Elda Carranza January 26, 2014.

Darryl is survived by wife Elda Urps, daughter Kayla Urps, mother Delbra Urps, brother Hermann Wright III, step children Teja Rice and Joshua Thomas, granddaughter Elariah Nicloe Thomas. A host of family that loved him.

Darryl is preceded in death with his father Hermann Wright Jr and grandparents.

God looked around his garden and found an empty space. Then he looked down upon this earth and saw your tired face. He put his arms around and lifted you and to rest. God's garden must be beautiful He only takes the Best.