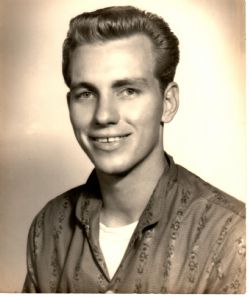 Harold Gene Ruhmann

Harold Gene Ruhmann
March 24, 1937 - January 6, 2021
Gene Ruhmann was born March 24, 1937 in Columbus, Texas to Clemons Boyce Ruhmann and Hilda (Reising) Ruhmann. The family moved to Freeport, Texas in 1942 when his father went to work for Dow Chemical Company. He grew up in Freeport and wen t to Brazosport High school where he played football and ran track. He went to state in track. After he graduated he went to work for Dow.

He married Verna Rainey in 1958. They were married for 62 years. They had 4 sons, 5 grandsons, one great granddaughter and one great grandson. He loved to take the boys camping and most vacations were spent at Garner State Park.

In 1978 he built the house they live in now. He did all the work – carpentry, electrical, plumbing and painting. After he retired from Dow he built two more houses.

Gene was a devout Christian and lived what he taught. He served as an elder in the church of Christ at Freeport and at The Clute church also. He did prison ministry for several years and prisoners would often write or call him after they were released.
He was preceded in death by his parents, an infant sister, Sharon and his sister-in-law Genell Ruhmann.

He is survived by his wife Verna, sons Chuck (Kathy) of Caddo Mills, Jim (Sandra) of Danciger, Robert, of Angleton, Ron (Lisa) of Lake Jackson, his grandsons Jason, Scott (Megan), Brandon, Lane, and Josh. He is also survived by his brother Charles of Fort Worth, his sisters Shirley (Charlie) Fitzgerald of Richwood, Laura (Delbert) Kulhanek of Frelsburg, his brother in law John (Judy) Rainey of Rockport, numerous nieces, nephews, cousins , two aunts, Laverne White of Columbus, Texas and Lee Ruhmann of Fort Worth. He had many friends and brothers and sisters in Christ.

There will be no traditional funeral because of the corona virus. A graveside service will be at Pilgrim cemetery in Elkhart, Texas Monday at one o'clock. Jim Belcher will officiate. A memorial service is planned for a later date. In lieu of flowers donations may be made to A Med hospice.