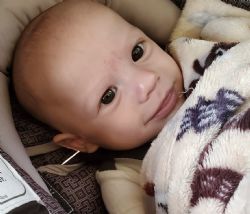 Brentley Holden Perry

Brentley Holden Perry
July 31, 2020 - January 11, 2021
Funeral services for Brentley Holden Perry, age 5 months, of Brazoria, TX will be private at Lakewood Funeral Chapel, with Kevin Clark officiating. Interment will be at Gulf Prairie Cemetery.

Baby Brentley eagerly entered into this world, coming along two months early. He had many bumps in the road upon his arrival, but he overcame them all. Who could have known how he would make our lives better. He was a true blessing. He was a true fighter, he was always one step ahead. Brentley was always shining as bright as the sun, showing how happy, loved and cherished he was and that is exactly how he left this world.

Survivors include; Crystal Rayne Perry (Mother), Anthony Ray Perry (Grandpa), Amber Kay Perry (Aunt), Angela Rae Perry (Godmother & Aunt) and Anthony Ray Perry (Uncle). He will also be missed by a host of family that loved him.

Preceded by; Bettie Lou Perry (Great Grandmother), Roger Curtis Perry (Great Uncle) and Suzie Warren (Great Grandmother).

Pallbearers will be; Destinee Reagan, Tabetha Bailey, Kadence Reagan and Amber Perry.