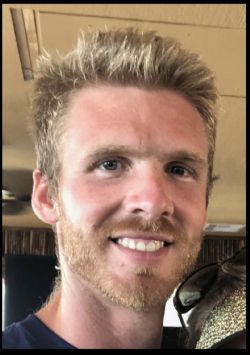 Nicholas F Cordes

Nicholas F Cordes
August 9, 1990 - February 9, 2021
Nicholas F. Cordes, age 30, went to be with the Lord on February 9, 2021. He was born on August 9, 1990, in Houston, Texas to Fred Cordes and Karen Tait Cordes.

Nicholas was loved by so many from the moment he was born. As the youngest of his siblings, Nicholas was doted on by his brother and sisters. Throughout the years, Nicholas developed a love for music. He loved playing the piano and was an avid drum player. He had a natural ability to play anything by ear. Nick's smile and contagious laugh lit up any room he walked in. He was always ready for a great outdoor adventure, whether it be hiking, skiing, swimming, boating, or golfing.

Nicholas was preceded in death by his maternal grandparents, Marianne and Robert Scott Tait, Jr., and his paternal grandfather, Harry B. Cordes.

He is survived by his parents, Fred Cordes and Karen Tait Cordes; siblings, Cori Westfield (Scott), Ashlee Guzman, Leah Tran, and Christopher Cordes; his nieces and nephews, Jason Gardner, Delaney Gardner, Shylah Westfield, Dylan Guzman, Lilly Guzman, and Noah Pranger; grandmother, Mary Aton; numerous aunts, uncles, and cousins.


A celebration of life will held on Saturday, February 20, 2021 at New Beginnings Community Church. 400 N. Dixie Dr., Lake Jackson, TX 77566. Visitation will be from 1pm-2pm. Service starts at 2pm. Please deliver all flowers to the church between 11am-1:30pm.

In remembrance of Nick's life, the family asks that any charitable contributions be made to Alpha Academy P.O. Box 4412 San Luis Obispo, CA 93403. Alpha Academy is a Christian-based, 6 month long mentoring program designed to give students a break from their regular life and guide them toward a better path.