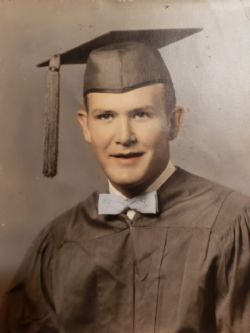 Joseph Glenn Steel

Joseph Glenn Steel
April 22, 1939 - February 27, 2021
Funeral services for Joseph Glenn Steel, age 81, of Jones Creek, Texas will be held at 11am on Saturday, March 13, 2021 at Gulf Prairie Cemetery in Jones Creek, Texas with Derek Kendrick officiating.

Joseph was born in Tyler, Texas on April 22, 1939 to Barney and Myrtle Steel. He graduated from Tyler High School where he met the love of his life Cynthia Hallmark. They were married for 62 and a half years. He was a mason for 53 years. He worked at Dow for 31 years. He loved his family and ALL of his grandchildren so very much. He will be missed.

Survivors include, his wife; Cynthia Steel, children; Tina D.S., Matthew S. daughter in law Tina K.S., grandchildren; Alesha K., Wesley G., Sabrina S., Joseph R.S. Marcus S., Sarah H., 11 great-grandchildren and 2 great-great grandchildren.

Preceded in death by his parents; Barney and Myrtle Steel, son; Joseph Mark Steel, grandson; Jason Gray, 3 brothers and 2 sisters.

Please send flowers to Gulf Prairie Cemetery during the time of the service.