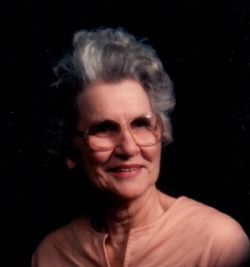 Vera Irene Bennett

Vera Irene Bennett
January 21, 1928 - April 15, 2021
Vera Irene Borowicz Bennett passed away on April 15, 2021 at Oak Village Healthcare in Lake Jackson TX. Vera was born January 21, 1928 at home in Latium TX., to parents Edward and Mary Januszewski Borowicz.

Vera was born the youngest of eleven children and grew up during the depression. Her family were sharecroppers and poor, but she had fond memories of her childhood. She was especially close to her mother and her siblings and cousins were her best friends. They worked hard raising their own food, staying up all night cooking and preparing for Easter, decorating Easter bonnets and at Christmas time making homemade gifts. When Vera left home she went to work at a restaurant in Damon, TX and lived in an apartment above the restaurant. It was at this restaurant that Vera met her future husband, James Bennett. Vera and James were married October 8, 1947 at St. Cyril and Methodius Catholic Church in Damon. While living in Damon, Vera and James welcomed two sons, Larry and Raymond. After James went to work for Dow Chemical they bought a house on Poinsettia Street in Lake Jackson. Mom loved her neighbors and she lived in this house until her health declined in recent years. After moving to Lake Jackson two more children were born, one daughter Cynthia and another son, Darrel. Vera was a parishioner of St. Mary Star of the Sea Catholic Church in Freeport and moved over to St. Michael's Catholic Church in Lake Jackson after it was built in 1960. Vera loved her church. Vera cherished the friends her and James made and the time spent dancing at Vrazel's Ballroom in Danbury. She and James danced many miles around that dance floor. After James died she never went dancing again. She said it wouldn't be the same without him. She was a widow for 30 years. Vera loved to cook, work in her flower beds, and maintain her lawn well into her seventies. She especially loved spending time with her family and attending Mass every Sunday. When her children were very young she would do laundry and ironing for paying customers to help with the bills. Later she worked as a receptionist at Crayon Glamour Hair Salon in Lake Jackson, owned by Friend Val Comley. A few years later she went to work for Brazoswood High School food service. She worked there for 9-1/2 years and loved all the kids that came through the lunch line. Vera cooked every day for her family. And even after the kids left home she still cooked a large meal for the whole family every Sunday. She loved having her kids and grandkids over to visit and listen to her childhood stories and play ball in the front yard along with the neighborhood kids. She enjoyed attending her kids and grandkids ballgames. She loved her grandchildren very much.

Vera is preceded in death by her parents; Godparents Mary Januszewski and Ike Januszewski; husband James Walter Bennett. Six of her siblings died in infancy or early childhood before she was even born: Stanley, Frank, Louie, Peter, Annie and Sophia. Vera grew up with three sisters: Mary Borowicz Vierus (John), Martha Borowicz Bednar (Richard), and Teresa Borowicz Lipinski (Stanley) and one brother, Stephen Borowicz (Helen). Her oldest son Larry James Bennett died in 2008 and her youngest son Darrel Wayne Bennett died in 2016. And many cousins, nephews and nieces whom she loved very much.

Left to cherish her memories: Raymond Joe Bennett and Mary Kate (whom she loved as a daughter), Cynthia Ann Bennett West and Gene (whom she loved as a son), three grandsons: Jeremy Bennett, Justin Bennett and James Bennett, and one granddaughter Lisa West and three great grandchildren: Blakely Bennett, Pyper and Peighton Bennett, one Godchild Janice Lipinski Fenske of Needville and nieces and nephews all of whom she loved very much.

Pallbearers will be Vera's grandchildren: Jeremy, Justin, James Bennett and Lisa West.

Visitation will be 5:30-8:00 pm, Thursday April 22 at Lakewood Funeral Chapel.

Funeral will be 10:00 a.m., Friday April 23 at Lakewood Funeral Chapel, Dixie Drive in Lake Jackson.

Vera's family wishes to thank all of the staff at Oak Village Healthcare for the care, respect and love given to our loved one; her church family for visits, cards and prayers; Brenda Kinder with Hospice Care Team and all of our family and friends for their thoughts and prayers.

Social distancing will be practiced and masks are required.