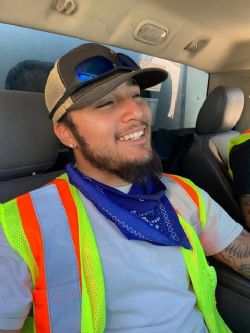 Michael "Jr Boy" Wayne Medina

Michael "Jr Boy" Wayne Medina
May 11, 1998 - April 18, 2021
Michael Wayne Medina, Jr., 22, of Brazoria, Texas, passed away on April 18, 2021. Michael W. Medina Jr., born in Galveston, Texas and was raised in Brazoria County. Michael was also known to close friends and family members as "Jr Boy". Michael attended CBISD school district throughout preschool years through high school up until 10th grade year at Columbia High School. Michael was very active from Little League Baseball to High School Football. Michael then transferred to Angleton High School for his 11th grade junior year all the way through graduating in 2017. Michael worked with several different companies throughout the Brazoria County area, but Michael worked for HEB in Angleton, and then transferred to the Lake Jackson, HEB in the seafood department. Michael was with the company for over three years and moved on to work with Mommet Co. for a year and then moved to Dallas/Fort Worth Area to work for his last known company Mears, a Quanta Services Company (Dallas Division). Michael was set to move on to the San Antonio Division at the end of April with Mears Group. Michael "Jr. Boy", wanted to be closer to his mother, father, sister, and little brother, and also girlfriend, Denessie Reyes, of Gonzales, Texas. He was a loving young man, happy, caring, charismatic, jokester, and his smile lit up every room, and every heart, every single time. Michael loved to bbq, and attend cook-offs with his father, and uncle's bbq cook-off team known as the "Unknown Cookers". He also loved to dance, and jam out to music of all genres. Michael's biggest thing was his family, being with aunts, uncles, cousins, and having a good time was all he wanted to do, but his most favorite thing of all was to go fishing and/or hunting! Michael was a very outdoors person, camping with his family was always a must. There will never be a day that goes by that Our Beautiful baby boy will ever go unnoticed by his closest family members and dearest friends. Our Beautiful Angel will now rest in peace with his grandmothers, who have now passed on gracefully.

Michael W. Medina, Jr. is preceded in death by his maternal grandmother, Elisa May García Betancourt (Freeport); also his paternal grandmother, Margie Ann Medina (Angleton).

He is survived by father, Michael W. Medina, Sr.; mother, Asile Ann Betancourt Medina; sister, Elisa May Medina; brother, Gage Isaiah Medina; maternal grandfather, Miguel Angel Betancourt (Freeport); paternal grandfather, Fred Medina Sr. (Clute); uncles and aunts, James and Michelle Rodriguez (Angleton), Fred Medina Jr and Miriam Gomez (Angleton), Judy and John Ozuna (Lake Jackson), Mark and Elsa Medina (Angleton), Eleazar and Crystal Cardenas (Angleton), Michael García and Denise Marquez-girlfriend (Freeport); along with numerous cousins, and many friends, and coworkers.

Visitation will be held at Lakewood Funeral Chapel on Saturday, May 1st from 1:00 - 3:00 p.m. For the safety of all attending, mask are required and social distancing is encouraged.