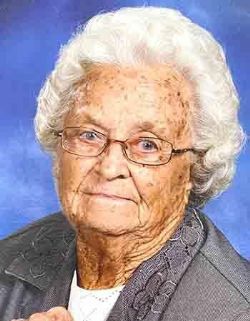 Cleo Marie Shoemaker

Cleo Marie Shoemaker
February 28, 1931 - April 27, 2021
Cleo Marie Ryman Shoemaker was born on Feb. 28, 1931 in Palacios, Texas to Alpha Catherine Ryman & Benjamin Franklin Ryman. She passed away April 27, 2021. Her parents had 9 children, Vernon, Nannie Mae, Lena, Pauline, Alta Fay, Norman, David and Marie. She is survived by Pauline Decker of Kentucky.

I don't know much about their upbringing but they lived at Palacios and Wadsworth. Their family farmed and Mother talks about working in the cotton fields and picking cotton from the time they were young.

Mother met Dad at a Walgreen's Pharmacy in Bay City where she worked. They were married Dec. 23, 1947. Mom and Dad lived in Columbus, Texas where she worked at West Pharmacy. They moved to Lake Jackson in the '60's where they owned and operated the Gulf service station for several years. Later they moved to Brazoria and raised a big garden, cows and their dogs. Mother loved being outside working in the garden, growing flowers and feeding the hummingbirds and watching the bluebirds. She also loved to bake awesome cakes, pies and absolutely delicious date cookies. As with dad, they loved to red fish and shrimp.

They had four children, Patsy (deceased at birth), Susie Shugart (Roger) of Brazoria, Bobby Shoemaker (Kim) of Belton, and Donnie Shoemaker (Vickie) of Lake Jackson and "adopted" JD Laird (Dixie). She is survived by grandchildren Glen Shugart (Karen), Billywayne Shoemaker (Krisann), Charles Shugart, and Lisa Shoemaker of Killeen. She is survived by her great grandchildren, great great grandchildren, and many nieces and nephews. She is also survived by Dad's sister Lou Muslow of Marlin.

The family appreciates the love and care by the Carriage Inn family and A-Med Home Health.

Services will be held at Lakewood Funeral Home May 3, 2021 in Lake Jackson. Visitation is at 10:30 with the service at 11:30. In lieu of flowers donations may be made to Gulf Coast Rescue Squad of which they were charter members or the Wild Peach Fire Department.