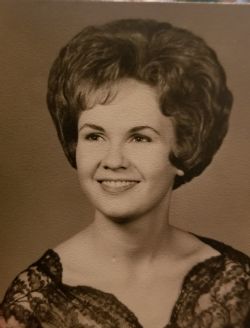 Linda Ruth Hendrick

Linda Ruth Hendrick
June 4, 1943 - May 31, 2021
Linda Ruth Hendrick went to be with her Lord on Monday, May 31, 2021. She was born on June 4, 1943 in Minter, Texas, to Gordon and Helen Woodard. The family moved to Kermit, Texas, when Linda was 6 years old. She graduated from Kermit High School in 1961. In August of 1965, she graduated from Howard Payne University, where she met her husband, Royce. The couple moved to Lake Jackson after Royce's graduation, and there she served the community as an Elementary Teacher for nearly 40 years.

Linda loved all things beautiful, and her life was guided by her love for Jesus Christ. Her classroom at Gladys Polk Elementary was characterized by creative productivity. It was a place of stability and peace for countless children. Following her retirement in 2008, Linda enjoyed piano lessons, painting and drawing, ornamental gardening, and photography. Her biggest joy, other than her relationship with Christ, was her family. The family gatherings, which routinely included loads of visiting, laughter, and goofiness, were some of her most favorite times. She was our greatest prayer champion, and we are forever grateful.

Linda is preceded in death by her parents, Gordon and Helen Woodard. She is survived by her husband of 55 years, Royce, sons and their wives Scott and Michelle Hendrick of Wild Peach, Chris and D'Anne Hendrick of Pearland, and daughter and son-in-law Beth and Stephen Sullivan of Kaufman, Texas. She is also survived by her grandchildren Dylyn Henderson and husband Zack, Quinn and Terry Hendrick, Nathyn and Brandyn Hendrick, Callie, Jarred, Alyssa, Leah and Gabriel Sullivan, great-granddaughters Aubrey and Jessa Henderson, and sister and brother-in-law Debbie and Roger Allen of Seminole, Texas.

The family is so thankful for the loving employees at IPH Hospice, as well as some very special caregivers. Also of immeasurable help has been the support of the church family at First Baptist Church of Lake Jackson.

There will be a visitation time Saturday, June 5, 2021, at 10:00 a.m., with the service following at 11:00 a.m. Both will be at First Baptist Church of Lake Jackson, 401 Yaupon Street, Lake Jackson, Texas. Pastor Chad Alexander will be officiating.

Pallbearers will be family members Scott Hendrick, Chris Hendrick, Quinn Hendrick, Terry Hendrick, Jarred Sullivan, and Brandyn Hendrick.