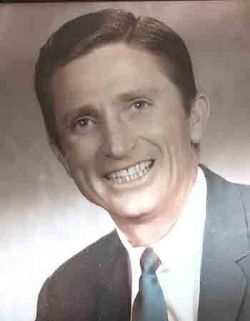 Floyd Winston Walters

Floyd Winston Walters
January 16, 1929 - June 5, 2021
Floyd Winston Walters went to Heaven Saturday morning, June 5, 2021, at age 92, while residing at Elmcroft Assisted Living in Lake Jackson, Texas.

He was preceded in death by his parents, Heber and Carrie Lavata Walters; his five brothers, Leland and wife, Nita, Owen David (Tom) and wife, Clyda, Noel and wife, Annie Mae, Michael and wife, Pat, and Brian; his wife, Dorothy Neuhaus Walters; his stepdaughter, Sandra Brooks; his cousins, Samuel and Austin McKnight and Verdell McKnight Stifflemire; his nephew, Steve Walters; and great nephew, Stevie Walters; his nieces, Kristan Walters, Karan Walters Mazie, and Shannon Walters Kuykendal; and his companion, Eloise Penny.

Floyd is survived by the caregivers of his final years, his niece, Teresa Walters Reupert and husband, Fred; nephew Glendon Walters and wife, Ellen; cousin, Betty Johnston and husband, Gary; and great niece, Becky Lewis Walters. He is also survived by nephews, Randy, Michael, and Daniel Walters; and nieces, Jana Walters, Kelly Walters and Carrie Walters. In addition, he is survived by numerous great nephews; nieces; and niece in-law, Marilyn Walters.

Floyd was born in Kelsey, Texas on January 16, 1929. His early years were spent there and later the family moved to Velasco where he graduated from Freeport High School. He worked from the time he was seven years old to the age of 87 on a variety of jobs, selling newspapers, working at gas stations, painting, construction, insurance, ranching, and finally owning his own business, Walters Fire and Safety. He served in the United States Army after WWII and was stationed in Germany for a year. He spent his final years at Elmcroft where he was loved by all. Floyd loved all things western and cars. He was devoted to his family and loved dearly by them. He was a selfless, generous, kind, and friendly man with a wonderful sense of humor. To those who loved him most he was a hero.

Pallbearers are Glendon Walters, Fred Reupert, Gary Johnston, Quint Walters, Chase Walters, and Chad Lewis. Honorary pallbearers are Randy Walters, Michael Walters, Daniel Walters, Justin Walters, and from Heaven, Stevie Walters.

Services will be Thursday, June 10, 2021 at Lakewood Chapel in Lake Jackson, Texas. Visitation is from 1:00 to 2:00 p.m.

Funeral will be at 2:00 p.m. with burial to follow at Gulf Prairie Cemetery in Jones Creek, Texas.