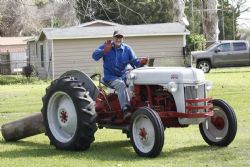 Rubin Earl Boykin

Rubin Earl Boykin
October 16, 1928 - July 6, 2021
Earl "PawPaw" Boykin passed from this life at the age of 92, surrounded by his loving family on Tuesday, July 6, 2021, after a brief battle with cancer. He was born on October 16, 1928, to Moscow and Lillender Boykin in Colbert County Alabama.

Upon moving his family to the Brazosport area in 1952 he worked as an auto mechanic, eventually opening his own shop, "Earl Boykin Garage" on Circle Way in Lake Jackson for several years. When he felt it was time for a change, he went to work as a mechanic for the "Freeport Yacht Marina" near the Bryan Beach Bridge and stayed until the marina was shut down after it was heavily damaged by a tornado. He then began a brief career with "Rush and Bryan", then he and his brother moved on to open their own marine operations business, "Marine Services". As the oil and shrimping business dwindled down, he left the partnership and hired on at Shintech in 1975 as a contract maintenance technician, and in 1980 was hired as a Shintech Employee. He continued to work there until he retired at the age of 71. Since then, he has never stopped working, whether it be hauling scrap iron, helping his sons with home and vehicle repairs, working on his grand kid's cars, restoring tractors or a Model "T" go-kart for his great grandchildren. It seemed that as time went on, he became everyone's "PawPaw" through the endless activities that brought the grands, great nieces, and nephews (and their friends) through his doors. Even though he has never had a social media account, he has become well known for posts made by the kids and grand kids about the many projects he has done in the last 10 or so years.

"PawPaw" was predeceased by his mother and father, the love of his life, Betty Jo "Granny" Boykin, oldest son Herb Boykin, sisters Virginia Creekmore, Dorothy White, Dolly Phillips, Lillie Weatherford and brothers Junior and Vernon Boykin.

He is survived by his son Steve (Sandy), daughter in law Shari Boykin, sister Faye Duncan (Freddie), brothers Danny (Rhonda), and Freeman. His grandchildren Jenny Nowlin (Greg), Lisa Custer (Clif), Steven Joe Boykin (Amanda), Cindi Calderone, Taylor Garatt (Rebecca), great grandchildren Alyssa Nowlin, Abigail Boykin, Lila Boykin, Addalyn Custer, Dorothy Boykin, and numerous nieces and nephews.

The family will receive visitors from 9:30 am to 11:00 am with services starting promptly after visitation on Saturday, July 10, 2021, at the Lakewood Funeral Chapel in Clute. There will be no public graveside service.

In lieu of flowers, donations may be made to the SPCA of Brazoria County, Texas, Quilts for Vets, or VOW 22.