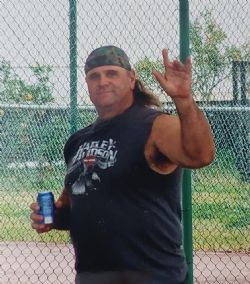 Michael "Bear" Joseph Hebert

Michael "Bear" Joseph Hebert
December 27, 1957 - August 19, 2021
Visitation for Michael Joseph Hebert, 63 of Freeport, Texas will be held at 2:00pm to 4:00pm on August 27th, 2021 at Lakewood Funeral Chapel in Lake Jackson, Texas. The Family will receive friends at 1506 West 4th Street, Freeport, Texas afterwards.

We have lost our gentle giant Bear a.k.a. Mike, Michael and Pawpaw, Michael Herbert. Bear was always soft tempered, the peace keeper and always made a friend wherever he went. A stranger he never knew could get the shirt off his back and his shirt is kinda big so that's a lot of giving. We would tease him and say "Oh yeah that's right, you're a celebrity!", because everywhere we went, someone would stop him and talk and talk. He loved to tell stories about things he did, people he met, places he's been and the different food he's eaten. Never a dull story time. As a young Bear he was an avid hunter and fisherman. When he got older he and Cheryl became avid bikers and enjoyed riding with friends on the weekends. Always willing to ride in bike benefits for the fellow human being who were on hard times. A huge thank you to all fellow bikers who joined in the effort to help those in their time of need.
Michael became an instant dad to 2 teenage girls when he and mom got together. With no kids of his own he took us in and was a very loving, thoughtful, caring parent and grandparent to us and the grandkids. He and mom were soulmates, thru life's ups and downs he never gave up and stood by her side.

Dear Mother Herbert,
Viola,
Thank you for raising a great and wonderful man. He will be missed every day and never forgotten. He truly is my soulmate. It was a pleasure and honor to be his wife.

Michael Joseph Hebert was born in Larose, LA on December 27, 1957 but resided in Freeport, TX and is survived by his wife, Cheryl Hebert, brother, Floyd and wife Mary Hebert, daughter, Cristy Griffith, granddaughters, Calla, Cassie, Samantha and Phoenix and nieces and nephews.