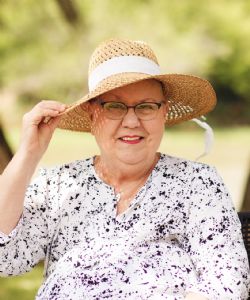 Janet Ann Parker

Janet Ann Parker
February 18, 1945 - September 9, 2021
Janet Ann (Cutshall) Parker was born to Stanley Clay Cutshall and Mary Elizabeth (Robison) Cutshall on February 18, 1945 at the Dow Hospital in Freeport, Texas. She was called to her eternal resting place on September 9th, 2021 after 76 years of life.


She was raised on a lake with plenty of trees and three older brothers who were protectors throughout her life. She learned to cook from scratch and hung clothes on a clothes line. She rode a school bus to school for 13 years. Until her teens she thought her middle name was watch for snakes or close the door.

She graduated from Brazosport Senior High School in 1963, and earned her Bachelor of Arts degree from Lamar State College of Technology in Elementary Education in 1967. She taught elementary school most of her career becoming a master teacher. She taught in Clear Lake ISD, Spring Branch ISD, Katy ISD and the Windham School District. She trained teachers at Brazosport ISD and Columbia-Brazoria ISD. After retiring from teaching she developed a greeting card company called "Grown Up Girls Greeting Cards". She reunited with a dozen dynamite Brazosport 1963 members of her graduating class for lunch. She enjoyed sewing, crafts, reading, dining out, getting together with friends, and her cats. She was known for her entertaining manner and wit that often left those in laughter and brightening their day.


She married Paul Parker, the love of her life and settled into an ideal marriage that lasted 37 years before her death. What a wonderful family & husband, what a wonderful life.


She was preceded in death by her parents, Stan and Mary Cutshall, her older brother Jack Cutshall and a nephew Mark Cutshall. She is survived by Paul her husband of 37 years; her stepson Jay, brothers Jim & Joe, her nieces Mary, Carol, Caley, Maura, Marisa and nephew Reed.

She will be missed by family and all who knew her.

Viewing will be at 12:00 noon till 3:00pm on September 17, 2021 at Lakewood Funeral Chapel. The service will be at St Timothy's Episcopal Church at 200 Oyster Creek Drive in Lake Jackson at 10:30am with burial to follow at Restwood Cemetery in Clute. In lieu of flowers, make donations to St Timothy's Episcopal Church or a charity of your choice.