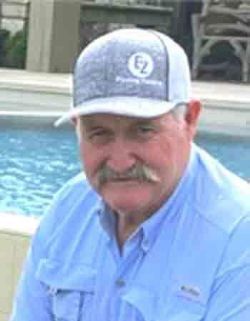 Charles "Charlie" Thomas Armstrong II

Charles "Charlie" Thomas Armstrong II
November 4, 1954 - September 3, 2021
Charles "Charlie" Armstrong II. 66, of Lake Jackson, Texas, passed away unexpectedly at home on September 3, 2021. Charles was born November 4, 1954, in Bay City, Texas, to Robert and Dorothy Armstrong, of Guy, Texas. Charles was a 1973 graduate of Needville High School and played sports for the fighting Blue Jays.

After high school Charles started his career as a welder. He met, fell in love, and in 1976 married the love of his life, Shirlene Ray. After marriage they decided to set up house in Freeport, Texas, and started a family. They were blessed with three children: son, Mitchell, daughter, Angela and son, Charlie. When the kids were small, Charles made the decision to leave the pipeline for a local job working for ICS for 20 years, When the kids got older, he went back to the pipeline where he worked for several companies, the latest being Primoris where he worked for the past 10 years.

For several years, Charles served on numerous committees for the Brazoria County Fair Association along with coaching both girls softball and boys little league teams. He was a master Craftsman, fixing and building anything he or anyone else wanted or needed. There was no project too big! Charles loved to fish, hunt, make sausage and BBQ. He even made his own smoke house and BBQ pit, He looked forward to making sausage and sharing it with his family at holiday events in their garage. Charles loved to BBQ for everything, including benefits, weddings, and even St. Marys Parish Festival. When Charles wasn't doing the BBQ, he would loan out his 40 foot pit for others to do the same!

Charles was a devoted, loving husband, father, papa, son , brother, uncle, cousin, and friend. He was a father figure to many. Knowing him you knew how hard he worked, how smart, genuine, generous, talented, and critical he was. He will be greatly missed but will be remembered by his work ethics, generosity, and love for all his friends and family. Underneath that rough exterior was a gentle giant, a mountain of a man, and he left some big boots to fill!

Charles was preceded in death by his infant son, Mitchell Armstrong; his parents, Robert and Dorothy Armstrong; brother, Jimmie Armstrong; sister, Donna Leissner, father-in-law, Clevence Theriot, brothers-in-law, Ronnie Ray; Kenny Hilton and Dennis Leissner, and nephew, Bradley Hilton.

Charles is survived by his wife of 45 years, Shirlene Ray Armstrong; daughter, Angela Armstrong Lawson; son, Charlie Armstrong; grandson, Jamison and Jax Lawson, and Cadyn Armstrong, and sisters, Margaret Bartsch (Ed)and Betty Hilton, mother in law, Shirley Theriot, along with numerous nieces, nephews, and friends.

Visitation for Charles will be Thursday, at 10:30 a.m. with the funeral service being a noon, at the Freeport River Place.

Pallbearers will be Dustin Arriaga, Devin and Dakota Peters, James Armstrong, Chad Sanders, and Lynn Vickers. Honorary Pallbearers will be his grandsons, and Michael Benefield, Regina Lucas and the Employees of Primoris.