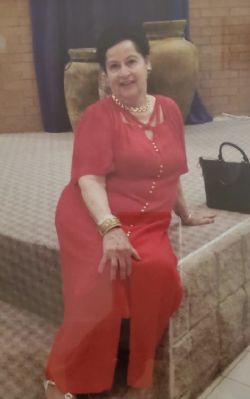 Hortencia "Tencha" Garza Ortiz

Hortencia "Tencha" Garza Ortiz
February 15, 1931 - September 20, 2021
Funeral services for Hortencia "Tencha" Ortiz, age 90, of Alamo, Texas will be held at 10:00 AM on Saturday, October 2nd at St. Jerome Catholic Church. A rosary will be held at Lakewood Funeral Chapel at 6:00 PM Friday, October 1st.

Hortencia was born February 15, 1931 in Harlingen, Texas. She resided in the Alamo area the majority of her life everyone knew Tencha. She was an active and involved member at Resurrection Catholic Church. She enjoyed visiting friends and family. Over the past few years Tencha volunteered on different political campaigns. Her loud laugh and smiling face will be missed by us all.

She is survived by: Children Lupe (Geneva) Ortiz, Larry (Diana) Ortiz, Roy (Sandra) Ortiz, Hector Martinez. Siblings Donaciano Garza, Maria Luisa Ortiz, Teresita Garza, Leticia Gonzales, Grandchildren Letty Mendoza, Angelica Galicia, Hope Barragan, Lisa Murphy, Lance Ortiz, Blake Ortiz, Gabriel Ortiz, Larry Ortiz Jr., Elissia Ortiz, Veronica Loredo, Johnny Mares, Joey Mares, Vanessa Ortiz-Crist, Abigail Ortiz, Donovan Ortiz.

She is preceded by: Parents Hilario and Antonia Garza, Brothers Hilario Garza Jr, Alfredo Garza, Flavio Garza, Jesus Garza, Sisters Guadalupe Ozuna, Julia Olivarez, Sofia Canche, Ofilia Livas, Herlinda Aleman, Otilia Martinez, Children Maricela Mares and Carlos Ortiz

Pallbearers will be: Gabriel Ortiz, Blake Ortiz, Daniel Barragan Jr, Ayden Ortiz, Austin Murphy and Johnny Mares. Honorary Pallbearers will be: Larry Ortiz Jr. and Phillip Jeremiah(PJ) Contreras.