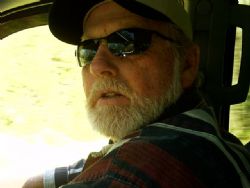 Robert Charles Aden

Robert Charles Aden
April 1, 1952 - October 10, 2021
Robert Charles Aden, Sr. of Angleton, Texas, went to be with the Lord on October 10, 2021 at the age of 69. Charles was the sixth of seven children born April 1st, 1952 in Freeport, Texas, to the late William Richard Aden and Gertrue Aden. He married the love of his life, Darlene Jones on August 5, 1969, and has been married for 52 years. They have three sons Robert Jr, Orren Sr, and Kevin Sr; 13 grandkids; 13 great grandkids and many nieces and nephews.

Charles loved to fish, hunt, tinker with cars, and he taught his boys to do the same at an early age. He also loved spending time with his family and friends, having cookouts or just sitting around visiting. Charles was known for being a big joker and always having a good funny story to tell about the good ole days.

Charles is preceded in death by his parents, William and Gertrude Aden, sister Lou Nell Grisham, and his brothers B.F. Aden, Wayne Aden, Dean Aden, and Billy Aden.

He is survived by his wife, Darlene Aden, sister Kay Chance and husband Monty, kids Robert Jr, Orren Sr and wife Paula, and Kevin Sr and wife Jessica.

Visitation will be held at the Lakewood Funeral Home in Lake Jackson, Texas, on October 14, 2021 from 10:00 a.m. until 12:30 p.m. with the celebration of Life beginning 12:30 p.m. We will then transport for Graveside services held at Gulf Prairie Cemetery located in Jones Creek, Texas 77541.