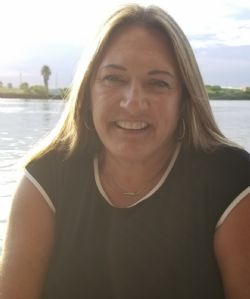 Sharlene Amanda Castator

Sharlene Amanda Castator
January 22, 1961 - October 15, 2021
Sharlene Castator, a resident of Lake Jackson, Texas, was released from her earthly constraints on Friday, October 15, 2021. She was at home surrounded by her family.
Sharlene was born on January 22, 1961 in Alexandria, Louisiana to Charles and Evelyn Burnett. With her Dad in the Air Force, Sharlene moved extensively as a child, often having more that one school per year. Fortunately, she moved to Plano, Texas during her freshman year of high school. Sharlene met the love of her life, Vance Castator, before her junior year of high school. Sharlene and Vance were married on February 16, 1980 in Plano, Texas and moved to College Station, Texas. No matter where their lives or adventures took them (College Station, Clute, Lake Jackson, Antwerpen Belgium, or Prairieville Louisiana), Sharlene made it home.
Sharlene was an amazing Mom to three children; Candice, Michael, and Lauren. She truly loved being a Mom and took great pride in her children. Sharlene taught them that family was most important, to be strong and to believe in themselves. Being a Mom and later a YaYa was her greatest passion.
She also very much loved animals. Sharlene worked in different roles in several veterinary clinics and often brought her work home (to stay). Almost all of her pets were rescues and each held a special place in her heart. Aggie, Maggie, Frankie, Harley, Louie, Sassy, Sarge and Bo (to name only a few) are glad to be back with their Mommy. Roxie, Izzy, Stoney, and Tia are surely missing their "Mommy loving" each morning. In lieu of flowers or plants, Sharlene would love to have donations made to the Brazoria County SPCA. Which can be done with the following link https://spcabc.kindful.com/
Sharlene is survived by her husband, Vance; her daughters, Candice and Lauren; her son, Michael; her daughters-in-law, Allison and Val; her son-in-law Perry; and her grandchildren, Kaydance, Kayce, Zoe, Teagan, and Owen. She is also survived by her Mom, Evelyn Burnett; her brother, Joel; her sister Jackie and her husband Walter; her mother-in-law, June; and her sister-in-law, Nancy and her husband Martin; as well as numerous nephews, nieces, great nephews and great nieces.
She is preceded in death by her Dad Charles Burnett, her older brother, and her father-in-law Donald Castator.
The family thanks the staff (Nurse Danielle, Nurse Ann, Nurse Victor, Nurse Charyce and CNA Coty) of A*Med Hospice for special care they gave Sharlene.
Sharlene was an outgoing and strong lady. She had a beautiful smile and a contagious laugh. Sharlene was a very spiritual woman with strong and private beliefs. She did not want anyone to grieve or be sad when she was gone. Sharlene did not want a funeral service; hence her family is honoring her wishes. Her family invites friends to join us for a Celebration of Sharlene's Life at the Lake Jackson Civic Center on Thursday October 21 from 5 to 7 pm.