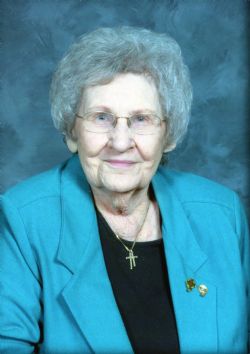 Justina Keprta

Justina Keprta
September 5, 1933 - November 5, 2021
It is with great sadness, the Keprta Family announces the passing of our precious mother, the matriarch of our family, Justina Olga Monica Michna Keprta (Justine). God called her home on Friday, November 5th, 2021. There to meet her was our precious Dad, L.V., her mother Olga, father Joseph, and brother Jerome among many other relatives and friends. We know there was a great celebration in Heaven that night and in true Czech celebration, a lot of PIVO (beer) going around!

Mom was born on September 5th, 1933 in Hungerford, Texas on the farm. Her parents were from generations of farmers and were still carrying on the tradition. Unfortunately, when Mom was only seven years old, her Dad died of a massive heart attack at only 34 years old. This truly broke our motherís heart. Mom was the apple of her Dadís eyes. Mom had so many wonderful memories of her Dad in those short years and she shared them with us always so we felt that we knew our Grandpa Michna. After his death, Momís mother moved the family to Yoakum for a short time, then to East Bernard where the family stayed with relatives. Mom loved staying with all the cousins and they all became lifelong friends.

In East Bernard, Justine attended Holy Cross Catholic School through the eighth grade where she definitely gave the nuns a run for their money. She told us countless stories of teasing or trying to scare the nuns especially Sister Josephine. Mom loved Catholic school and was always an ďAĒ student but her mischievousness always got the best of her. We can only imagine, even though she never said, that her mother probably got countless calls from the nuns!

After the eighth grade, Mom attended East Bernard High School where she won awards for her penmanship. She had beautiful hand writing all her life. In her freshman year she met the love of her life, our Dad. Dad was very shy, but in true style of our Mother, she got his attention by smiling at him with chewed Black Jack Gum around her two front teeth! She was a character but that definitely hooked Dad. They were inseparable and married after Mom graduated in 1951. Justine and L.V. were married for 63 years until Dad passed in 2015.

Momís career, though her main focus was always her husband and kids, was a Secretary/Bookkeeper for many different companies. She started working for Hughes Tool in Houston when Dad was overseas in the Navy. Even though she never met Howard Hughes, she did get to see his office and she always said the carpet was so plush you would sink into it. After Dad came back from the Navy, they settled in Clute where they had us three kids and Mom held various secretary/bookkeeping jobs with Bottom Dollar and American National. Most of her working years, though, she spent as the church secretary at St. Jeromeís Catholic Church. She was the first secretary for St. Jeromeís. Mom and Dad, along with a small group of families, were the founding members of St. Jeromeís. Mom was very active in the church. She was instrumental in starting a court of the Catholic Daughterís Organization at St. Jeromeís and she was their first regent. Mom was a lifetime member of the KJZT and held many officer positions in that organization through the years.
Our mother was one of a kind. She didnít mince her words and she always said what she thought. She fiercely loved her kids, grandkids, and great-grandkids. Mom was an exceptional artist. She painted, did ceramics, crafts, sewed and she always shared her talents with others. Mom had a ceramic shop for a few years, but she really loved when she and Dad started following craft shows. Later, for several years, she would have craft shows in her home which she truly enjoyed. Mom made the best apple strudels and a Czech delicacy called Kraple. Fortunately, she shared her recipes with her daughters and hopefully we can carry on the tradition. Mom loved her Czech heritage and could still speak the language. Father Jim affectionately called her the ďhead CzechĒ at St. Jeromeís.

As many know, Mom was a die-hard Cowboys Fan! She always said they were Americaís Team and always believed in them even when they didnít have the best of years. She was so proud of them this season. Mom loved to play cards, especially STIK, a Czech card game. You had to watch her though, she always had some tricks up her sleeve! She and Dad loved to play 42 and 84 dominoes with their friends and the games could get quite loud and last into the night.

She is survived by her children Monica Huehlefeld (William), Duane Keprta (Andrea) and Veronica Keprta. Grandchildren Paul Huehlefeld (Shannon), Amanda Scott (Randy), Kennedy Keprta, Alex Keprta, and Andrew Keprta. Great-Grandchildren Lily, Vati, Grayson Huehlefeld and Wyatt Scott and many relatives and friends.
Pall Bearers will be her grandsons Paul Huehlefeld, Alex and Andrew Keprta, and Randy Scott, Nephews Rusty Matula and Sean Doughty.
Honorary Pall Bearers are Catholic Daughters, Court #2334 and Members of Freeport KJZT Society # 115
Services will be held on Thursday, November 11th, 2021 at Lakewood Funeral Home with a Rosary starting at 6:00 p.m. until 6:30 p.m. and visitation from 6:30-8:00 p.m. A Mass of Christian Burial will be celebrated at St. Jeromeís Catholic Church, Clute, Texas on Friday, November 12th, 2021 at 2:30 p.m.
We love you Momma always and forever!