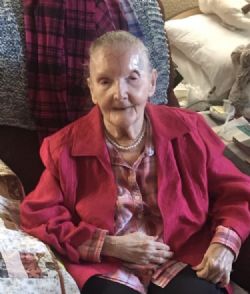 Alice Marie Holik

Alice Marie Holik
December 19, 1934 - November 6, 2021
Alice Marie Holik, 86 of Ingleside Texas passed away November 6, 2021. Alice was born December 19, 1934 to William and Gladys Ayers who both proceeded her in death. She was also proceeded in death by her husband Leland Laddie Holik in 2013.

Alice is survived by, Son - Gary Holik of Galveston, Texas
Grandchild - Ross Holik married to Jessica Holik and their children Jaxson and Lila of San Fransico, California
Grandchild - Ryan Holik married to Ashley Holik and their children Mazzy, Ellis, and Penny of Sugarland, Texas
Son and Wife - Nolan Holik and Vicki Holik
Grand Child - Juile Bradford married to Brandon Bradford and their son Grayson of Aubrey, Texas
Grand Child - Rebecca Bordelon married to Zac Bordelon and their children Landon, Lila, and Emilia of Ingleside, Texas

Alice Marie was a wonderful wife to her husband Leland of 57 years. Alice loved her parents and children Gary and Nolan. Alice spent her time at the schools volunteering as a home room teacher. She loved helping the kids with their daily school work. She was a member of the First United Methodist Church in Oyster Creek, Texas, where she enjoyed being a Sunday school teacher. She continued to be involved in the church after they moved to Neches, Texas. Alice loved to go fishing with her family and could filet and fry up some of the best fish and shrimp. She loved being outdoors and camping with her family. As the grandkids came along, she spent as much time with them as she could. She made sure she never missed any activities and events right down to high school and college graduations. She was so proud of each of her granchildren. After Leland passed away, she moved into the Gulf Pointe Plaza nursing home located in Rockport, Texas, where she loved all the staff and they loved her. When hurricane Harvey hit she was relocated to Bee Cave in the Austin area and then returned to Rockport. She loved to play Bingo and do arts and crafts. Her life was full of love and joy right to her final breath. She's now resting in peace and in the arms of all of her loved ones that passed before her. A WONDERFUL WOMAN....

Services will be held at Lakewood Funeral Home Saturday November 20, 2021. The Family will receive friends from 9:00am until service time at 11 am. With Rev. Nancy Cobbs officiating.