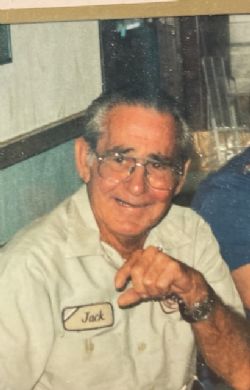 Jack Cutheral Raymond

Jack Cutheral Raymond
September 11, 1936 - November 19, 2021
Jack Cutheral Raymond born September 11, 1936 joined his loving wife, Jean Raymond, on the morning of November 19, 2021 at the age of 85.

Jack Raymond was born to Lois Kelton and Mattie Crouch Raymond in Iola Texas. He graduated from Freeport High School in 1956. After his graduation he joined the Navy. He served as an electrician on submarines until his retirement in 1973, with a final rank of Chief of the Boat (COB). After retirement, Jack and his growing family moved back to his childhood hometown of Lake Jackson Texas and started his own electrical business – Raymond Electric and ran the business until he was hired by BISD as Lead Electrician. In 2001, After over 20 years, Jack retired from BISD.

Jack married his High School sweet heart, Jean on January 3, 1958 and was married 46 years until his wife's death on February 11, 2004. During their marriage they raised 5 children, Jeffery Raymond, David Raymond, Michael Raymond, Diane Raymond and Brian Raymond.

Jack was survived by his sister Lena Junek, his children Jeffery Raymond, David Raymond (wife Suzanne Raymond), Michael Raymond (wife Mary Raymond), Diane Raymond, Brian Raymond, grandchildren Steven Raymond, Cassidy Raymond, Candace Raymond, Tyler Raymond, Cory Raymond, Devon Raymond and Iris Raymond and his three great grandchildren: Kaysen, Sawyer and Alastair. He is preceded in death by his wife Jean Raymond, parents Lois and Mattie Raymond, brother W.J. "Dub" Raymond, sister Wanda Sanford and granddaughter Savannah Raymond.


Dad's Lament
You held us up,
Kept us from falling.
You never let us down,
Keeping your children safe.
You were always there,
Helping anyway possible.
Now we sit in silence,
At an utter loss without you.
Give Mom a hug for us,
And tell Uncle Dub hi.
We'll miss you,
Until next time.

Viewing will be from 10am to noon on Friday, November 26, 2021. Services will follow viewing at 12:00 at Lakewood Chapel, 98 Dixie Drive, Lake Jackson Texas 77566.

Burial Ceremony at the Veteran's National Cemetery in Houston, will be a private to the family.