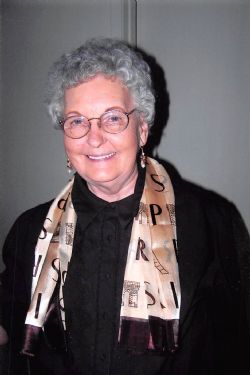 Luna Marie Donnohue

Luna Marie Donnohue
February 24, 1927 - December 25, 2021
Luna (Lou) Marie Donnohue was born on February 24, 1927 and went home to be with her Lord on His birthday, December 25, 2021. What a gift He received! Her personality was known all over as being spunky and fun loving. She sang in her church choir as well as a Gospel quartet in her early years. She also liked to fish down on the beach or off her porch where she lived at Hide-Away on the Gulf back in the day. She took an interest in everything her grandchildren and great grandchildren participated in from showing livestock to sports to piano recitals and everything in between. Maw-Maw enjoyed cooking for all of her family. Southern fried chicken with biscuits, gravy and fried okra was one of our favorites. She enjoyed various crafts such as sewing, embroidery and quilting. She shared her gift of quilting by giving each grandchild their own, carefully planned quilt. She loved to travel especially to her family reunions where she would catch up with all the memories from years gone by. She also had the privilege to see Germany. She retired from Intermedics where she was a group leader, supervisor and administrator. She was loved by all those that crossed her path.

She spent her last days in the Country Village Care Home in Angleton, TX. We would like to express our sincerest thanks to hospices and the nursing staff for the love and care shown to our mother.

She was preceded in death by her parents Austin and Lucy (Hammock) Crownover, her husband of 19 years, T.P. (Don) Donnohue, Brothers Arthur (Loreda) Crownover, Arlie Crownover, Troy (Juanita) Crownover, Roy Crownover, Cleo Crownover and Clifton Crownover. Sisters Iva Mae (Mark) Kidney, Lena Smith and Jo Reddig.

She is survived by sons Roy (Dee) Bowers, Gary (Heidi) Bowers, daughters Sandra Stewart and Susie (Ken) Lowell, sister-in-law Margaret Crownover, 19 grandchildren, 14 great-grandchildren, 10 great-great-grandchildren, numerous nieces, nephews and friends.

Pall bearers: Grandsons Charles Stewart and Skyler Lowell, Great-grandsons Russell Stewart, Phillip Stewart, Corey Stewart, and Hunter Schafer

Honorary Pall bearers: Grandsons Jason Booth, Zach Holeman, Kevin Alexander, Patrick Jule, Mike Ledford, Jamie Stratton, and Jason Hall. Great-grandsons Draven and Justice Booth, Gage Holeman, Stephen Stewart, Jared Waasdorp, Timmy Alexander, and Elijah Reyna. Great-great-grandsons Bowen Stewart, Kole and Kade Alexander.