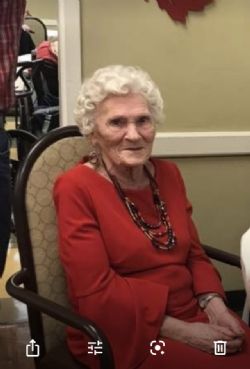 Mavis Gale Easley

Mavis Gale Easley
September 7, 1930 - December 30, 2021
Mavis Gale Baker Easley is living with Jesus now in the eternal home she looked forward to. She was born in Winnsboro, Texas on September 7, 1930, to Joseph Fredrick and Evie Rozella Baker. She spent her childhood there until she was 18 then moved to Clute, Texas where she met Thomas Howard Easley. They were together over 30 years living in Velasco, Freeport, and Clute. After he passed, she moved to Lake Jackson.

She is preceded in death by her husband, Thomas Howard Easley, her parents, her sisters, Adas Henson, Valta Mills, Joyce Wallis, Veda Spardella, three brothers, Ferguson Baker, Forest Baker, and Hershel Baker, and great grandson, Ian Cooper.

She is survived by her sister, Totsie (Leroy) Churchill, several nieces and nephews, her husband's son, Thomas Richard Easley (Ada Jane), grandchildren, great grandchildren, great great grandchildren, and one great great great grandson.

Mavis was always content with her life. She was a waitress for several restaurants in the area; Rock Front Café in Clute, Russel's café in Velasco, Dow Hotel Café in Freeport and Port Café and others. She loved to dance. If the nursing home played music, she would dance around the room by herself. She loved to walk and would walk 8-10 miles every morning to go to the store or wherever she wanted or needed to go.

She loved her family at Woodlake for the last 6-7 years; especially Jeanie and Racquel, Mary, and Dolores, among so many others. Our family is so grateful for all who cared for her. Special thanks to Dr. Burns, Dr. Sweat, and Dr. Amin for their care as well.

She loved to go out "gallivanting" with Jane and ending up at a restaurant eating oysters. If oysters were out of season, she would order shrimp. Tom and Jane were her caregivers for many years after her husband passed.

Mavis loved to go to her church, First Baptist Church, Clute, and hated to miss. When she was not able to go there, she would go with Jane to Brazosport Baptist Temple. She loved her Lord and knew she would meet him soon.

We will miss her greatly, but we know she is dancing and singing in Heaven now.

Visitation will be open to all who loved her on Tuesday, January 4, 2022, at 10 a.m. A celebration of life service will be held at 11 a.m. at First Baptist Church, Clute, Texas. Service will be officiated by Pastor Jamie Hill of Victory Fellowship in Brazoria, Texas.

Graveside will be held at Houston National Cemetery on Wednesday, January 5, 2022, at 11 a.m.

In lieu of flowers, memorial donations can be made to First Baptist Church, Clute.
Final arrangements by the Turner Family at the Lakewood Funeral Chapel, (979) 297-6464. Online condolences may be made to the family at www.lakewoodfuneralchapel.com.