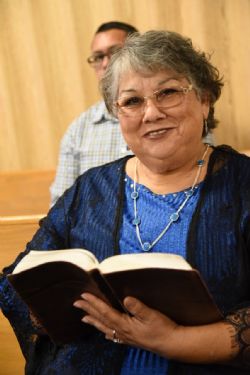 Irma Gonzalez

Irma Gonzalez
April 10, 1944 - April 27, 2022
Irma Garcia Gonzalez, 78, loving wife, mother, grandmother, great grandmother, sister, aunt and friend entered the house of our Lord peacefully on Wednesday, April 27, 2022, surrounded by her family in La Marque, Texas.


Irma was born in Valle Hermoso, Tamaulipas on April 10, 1944. In 1966 she married Servando Gonzalez of Los Guerras, Tamaulipas and resided in Clute, TX. They had 3 wonderful daughters and upon his passing moved to Brownsville with her family in 1991 until 2006 when she made Harlingen her home.

Irma was a devoted wife and mother. Her greatest love was caring for her children, grandchildren, and great grandchildren. Irma had such a strong faith in God and attended Primera Iglesia Bautista de Clute. After making Harlingen home, she attended Primera Iglesia Bautista of Harlingen. Irma enjoyed spending time with her family, serving her church, and was known for her love of plants and amazing cooking.

Irma is preceded in death by her loving husband, Servando Gonzalez, parents Benilde Moreno and Trinidad Garcia, her father-in-law and mother-in-law, Agapito and Rafaela Gonzalez as well as numerous other relatives.

Left behind to eternally treasure their memories of her are her devoted and loving daughters: Lucy (Richard) Soirez, Diana (Jim) Solis, Mayra (Daniel) Zepeda, seven grandchildren, Jonathan (Brittany) Soirez, Katie Soirez, Trey (Brenda) Solis, Diego Solis, Mia, Eva and Ezekiel Zepeda, and two great-grandchildren, Teegan and Avery Soirez. Her two sisters, Imelda (Severiano) Gomez and Maricela (Hubert) Artavia, four brothers Isaiah (Yolanda) Garcia, Ricardo Guerra, Israel (Sonia) Guerra, Martin (Isabel) Guerra numerous nieces and nephews, and great nieces and nephews.

A memorial service will be held at Primera Iglesia Bautista in Clute, TX on Saturday, April 30, 2022, beginning at 4:00 pm.

An additional service is scheduled for Saturday, May 7, 2022, at 10 a.m. at the Primera Iglesia Bautista of Harlingen, TX.

Irma's family wishes to express their sincere gratitude and heartfelt appreciation to Dr. Luis Gonzalez and staff of WellMed, Dr. Micheal Beavers and staff at MD Anderson, Hospice Plus and Nurse Emily for all their loving care and all her family and friends for their outpouring of respect and well wishes. A special thank you to the church family of Grace Church Houston, Pastor Robert Rodriguez and members of the Primera Iglesia Bautista of Harlingen and Pastor Tommy Flores and members of Primera Iglesia Bautista de Clute for their continued prayers and support. Irma was a woman of great faith in our Lord and Savior Jesus Christ. Her love for her family, her generosity, and her selfless nature towards all of God's children was always on display. Irma made the world a better place and she will certainly be missed.