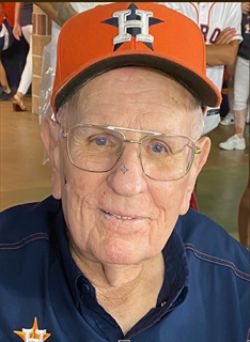 John Richard Womack

John Richard Womack
May 11, 1927 - May 4, 2022
John Richard Womack Sr.
May 11, 1927 –
May 4, 2022
John Richard Womack Sr., our sweet papa, born May 11, 1927, in Diboll Texas, to John (Bud) Thomas Womack and Annie McClendon Womack, passed away suddenly after a very short illness, on Wednesday, May 4, 2022 at 12:04 p.m. Exactly one week before his 95th birthday. His death was very unexpected and he will be more than greatly missed.
He grew up in Diboll Texas, and moved to Freeport, Texas, in 1943. He got his first job at Dow working in the cafeteria at 16. At 17, his mother signed papers saying he was two years older then he was so he could join the Navy. He was stationed in California for training. As his ship was heading off to war, papers were signed and the war was over. He finished his time and came back to Freeport and started working for Dow again. He met his sweetheart, Catherine Capps, dated and married on May 20, 1955. They lived on Ave H in Freeport until they built their lifelong house together in Clute and moved in 1974. They would have been married for 67 years. They had a long and healthy life together, both working at Dow and retiring after 35 years. They loved following the Exporters football games home and away. He very much enjoyed eating out at Luby's (probably their best customer) coffee, yard work, traveling, the Astros and of course his family.
He is survived by his loving wife, Catherine; two sons, John Richard Womack Jr. (Jay) and wife, Anita, of Angleton and Darryl 'Brent' Womack and wife, Rhonda, and grandchildren, Braydon Kyler, Bryson Chance and Brylee Nicole, all of Lake Jackson. These kids were the light of his life and how he loved spending time with them. They are going to miss him beyond measure. He also loved that he had been reconnected with 'the nieces' (Patricia Ann, Alma 'Nadine' and Mary Beth) and was enjoying being spoiled by them; also pleased by phone calls from his niece, Kathy and Randy Tomlison and visits from Laura and Bob Cramer.
He had four siblings. Three brothers, one who died at birth, Waymon and Nath; and a little sister, Bettie Lee. Two of his three brothers shared the bond of having the same birth date exactly five years apart. John considered his family his greatest accomplishment in life. He lived a life filled with happiness, adventure, laughter, and love from who he cherished the most.
Services will be at Lakewood Funeral Home in Lake Jackson, Texas, on Tuesday, May 10, 2022. Visitation 1:00 p.m. to 3:00 p.m. with service following at 3:00 p.m. with thanks to Bro. James McEntire for officiating.