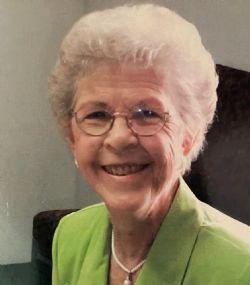 Ruth Allene Osborn

Ruth Allene Osborn
December 12, 1929 - June 22, 2022
On Wednesday, June 22, 2022, Ruth Osborn, loving mother of three children, three grandchildren and six great grandchildren, passed away at the age of 92.

Ruth was born December 12, 1929 in Gonzales, TX to Winnie and Howard Garner. She married Vaughn Derwood Osborn on October 17, 1952. They raised two children, Larry Wayne Osborn and Rhonda Lynn Osborn Hudgens, after the death of their first born, Terry Vaughn Osborn, at 3 days old.

Ruth loved to garden and had the most beautiful yard to express her passion. She spent many hours outside taking care of her grass, each plant, tree, and flower. She loved hummingbirds and loved to put her many feeders out each year, to watch and listen as they visited her back porch. She also had a passion for her family. Her happiest of times were when she saw and visited with each one, nothing made her heart sing more. She loved making her special lemon cake for each birthday or celebration, and we were happy to oblige with making the cake disappear. Ruth was a great spiritual warrior and a true Proverbs 31 woman. Ruth loved roses and the color pink; so much that she painted her house pink, repainting it by herself at age 80.

Ruth was preceded in death by her husband, Vaughn Derwood Osborn and two sons, Terry Vaughn and Larry Wayne Osborn, and her parents Winnie and James Garner. She is survived by her daughter, Rhonda Hudgens; three grandchildren, Jason Whisenant, Wesley Whisenant, and Lauren Owers; six great grandchildren, Alyssa, Aedyn, Asher, Archer, Jude and Cash; her sister, Gladys Hill and many nephews and nieces.

A heartfelt thank you to AMed Hospice, Anne Nesbitt, for your love, care and compassion through such a difficult time.

A celebration of Ruth's life will be held at Destination Church, 540 E. Plantation Dr, Clute, Tx June 27, 2022, visitation at 11:00, service at 12:00, graveside service will follow at Restwood Cemetery.