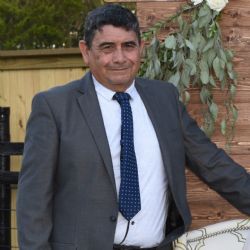 Espectacion Ochoa Villa

Espectacion Ochoa Villa
December 24, 1963 - June 21, 2022
Espectacion Ochoa, 58 years old, also known as Chon Ochoa, passed away on June 21, 2022 at Lake Jackson, TX.

Born in San Fernando, Tamaulipas, he was the son of Juan Crisostomo Ochoa and Esperanza Villa. He graduated from Cetis 179 with a diploma in Welding. He was employed at Brazos Pipe & Steel Fabricators and worked as a fitter.

He traveled around the Coast of Mexico at a young age. In Mexico he led a softball team into the minor leagues. At the age of 24 he married his wife, Imelda Lopez, they shared 35 years together and had the privilege to raise 3 kids. The family of 5 moved to the U.S.A in 2001 and lived in Brazoria since 2005. The home that their marriage built always had open doors for everyone from all over the world. Their love and compassion was inspiring to many. His passions included music and cooking for big and small crowds. He was a member of the New Creation church in Brazoria, TX which he attended with his wife. Spending time with family and friends, but mostly his wife, made him the happiest. He loved inventing new things and building all kinds of projects with his hands. He will be remembered for his happy soul and big sense of humor. The knowledge that poured out of his mind was limitless, which he always said it was only God using his vessel. His wisdom, which blessed everyone he encountered, was always comforting and loving. The faith he had was unwavering. The love that poured out of him was the kindest you'd ever experience. The happiness and joy he had lit up a room in a heartbeat.

He is survived by his wife, Imelda Ochoa; son, Orlando Ochoa; daughters, Adlemi Hernandez and Paola Hollis; daughter in law, Fernanda Ochoa; son in law, Milton Hernandez and Randall Hollis; grandchildren, Isaac Ochoa, Gideon Hollis, and 2 grandbabies on the way; siblings, Virginia, Santiago, Geronimo, Salomon, Antonia, Petra, Maria, Juan, Jorge, Veronica and Carlos. He was preceded by his parents, Juan and Esperanza Ochoa, his sister Margarita Pantoja, and his father in law, Guadalupe Lopez.

A viewing for Espectación Ochoa, age 58, of Brazoria TX will be held at Lakewood Funeral Chapel: 98 Dixie Dr, Lake Jackson, TX 77566 on June 29th at 11am with a funeral service following at 1pm with Pastor Juan Tobar officiatin. Interment will be held at Brazoria Cemetery.
The family will receive friends at 16311 CR 729 Brazoria, TX, 77422 following the burial.

Memorial donations in lieu of flowers may be made to Imelda Ochoa at 16311 CR 729 Brazoria, TX, 77422.