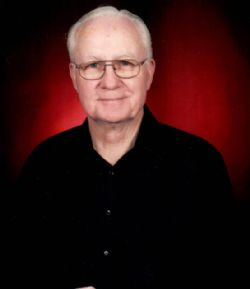 James Franklin Ledbetter

James Franklin Ledbetter
June 27, 2022
James Franklin Ledbetter went Home to the Lord on June 27, 2022.

James was born to Charlie and Pearl Ledbetter in 1934, in Bismarck, Arkansas. He grew up in Hot Springs and attended school at Lake Hamilton. He spent 2 years in the United States Army serving as a radio operator and later attended college on the G. I. Bill.

James met his wife, Norma, during high school and they were married in June of 1954. They were blessed with 4 children: Jim, Chuck, Nancy, and Ayme. They resided in Hot Springs and later Lake Jackson, where friends surrounded them around every corner. After retirement, James actively volunteered in the community where he spent many hours helping patrons at the Lake Jackson Library, and spent well over his goal of 1,000 hours as an Emergency Room Host at Brazosport Memorial Hospital where he was nicknamed the "little green man" because he wore green scrubs. James gave feet to his belief that If a person is genuinely concerned about others, then what they do will reach beyond emotions to actions.

One of James' greatest joys in life was to spend time with his children and grandchildren watching their sports activities (especially basketball), attending choir, band, piano recitals and plays, as well as any other projects they were involved in. He especially enjoyed sharing stories and long walks where he could focus on one person at a time. James was a good listener who kept confidences of many during his life.

In addition to being a dedicated and loving husband & father, James worked as a computer technologist at Dow, where he retired after 33 ˝ years. He was well known for going the extra mile and was always willing to lend a helping hand to his co-workers. James also loved music, specifically classical music and hymns. He would often request that his daughter or granddaughters play all the verses of Amazing Grace for his enjoyment.

James had an unwavering faith in God, and his faith only grew stronger the longer he lived. He was baptized (as were 6 of his siblings) in a creek behind Center Fork Missionary Baptist Church in Hot Springs, Arkansas.

James joins his parents, Charlie and Pearl, in Heaven, along with numerous siblings and his children Jim, Chuck, and Nancy. He is survived by his wife, Norma, his sister, Estelle, and his daughter Ayme (Johnnie) of Brazoria, TX as well as his grandchildren Lance (Evelyn), Brittany, Chelsea, James (Hanna), Makenzie, Kate, and Jill; great grandchildren Ethan, Landon, Evie, Harper, and Olivia; as well as numerous well-loved nieces, nephews, and cousins.

James was loved by so many. His positive outlook, generous spirit, and kind heart left an impression wherever he went. He never met a stranger that didn't quickly become a friend; he went out of his way to help anyone in need and had an incredible work ethic that will forever be remembered.

Visitation will be held at First Baptist Church of Lake Jackson at 10 am on Friday, July 1st with services following at 11 am.