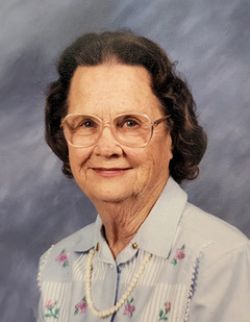 Annie "Dollie" Laura Alexander

Annie "Dollie" Laura Alexander
October 1, 1924 - July 15, 2022

She watches over the affairs of her household and does not eat the bread of idleness. Her children arise and call her blessed;
her husband also, and he praises her: "Many women do noble things,
but you surpass them all." Charm is deceptive, and beauty is fleeting; but a woman who fears the Lord is to be praised.
Proverbs 31: 27-30
Born on October 1, 1924, in Velasco, Texas, Dollie Krueger Alexander was called home to be with The Lord on Friday, July 15, 2022 at Country Village in Angleton. Dollie was born to Herman and Cecil Krueger.
She was preceded in death by her parents; her husband of 43 years, Foy Dean Alexander; and her beloved siblings, Herman Krueger, Marcus Krueger, Milton Krueger, and Kathlyn Ward; her cherished mother and father-in-law, Jack and Winnie Alexander; and her family in heart, Chick and Bill Herbert.
She is survived by her devoted son, Ronald "Ronnie" Alexander and wife, Anna, of Angleton; loving daughter, Carol Herbert and husband, Bill, of Richwood; grandchildren, Courtney Herbert, Rachel Alexander, Brittney Hall (Dillon), and Cody Alexander (Stephanie); and her cherished great-grandbabies, Caitlin and Riley Morgan and Hadley Hall. She is also survived by one sibling, Danny Krueger (Donna); and their children Duane and Danel; and special nephew, Thurman Krueger; and special niece, Vaundina Green.
Dollie married her soulmate, Dean, on February 7, 1948. They raised their family and lived their lives in Freeport, Texas, known at that time as Velasco. During her high school years Dollie worked at the Velasco State Bank. After marrying and starting a family, Dollie became the epitome of a loving homemaker. She found her joy in taking care of her family. She worked tirelessly to make sure her family was fed; especially with amazing dinners after church. There was nothing Dollie enjoyed more than having her family together around a dining table.
It was during her adult life that Dollie accomplished one of her proudest tasks, becoming a charter member of Velasco Baptist Church. Dollie dedicated her time and energy to Velasco Baptist for the lifetime of the church. Dollie was more than an integral member of the church. She poured her heart and soul into all areas of Velasco Baptist by serving in countless capacities. Some of these roles include: Sunday School Teacher, Sunday School Secretary, Women's Missionary Union, Vacation Bible School volunteer, kitchen committee member, nursery room helper, the King's Kids after school program, and serving on the nursing home ministry team.
It was during her time at Velasco Baptist that Dollie developed so many lifelong friendships with fellow congregation members. Dollie made an impact on so many friends and children while dedicating herself to the Lord's work. She considered so many of these her extended family. She took delight in spending her time helping this extended family at every opportunity. She lived out the goal of every Christian, to be the hands and feet of Jesus.
Among all of her many accomplishments, taking care of her family was the one she was most proud of and the most successful.
Dollie was happiest whenever she was surrounded by her family. While her children worked, she dedicated herself to helping care for her grandchildren. She was the truest definition of a matriarch. She instilled strong Christian values and created the ties that bind our family together.
Visitation will be held at 10:00 a.m. Wednesday, July 20 at First Baptist Church of Freeport. Funeral services will immediately follow at 11:00 a.m. with Brother Chris Moore and Brother Jeff McDonald officiating. Burial will follow at Restwood in Clute, Texas.
Pallbearers will be Raymond Smith, Ernest Karl, Chris Roland, Jason Holloman, Jeff Patterson, and Thurman Krueger.
Honorary pallbearers will be Bill Herbert, Randy King, Joe Turk, Gerald Koenning, and Dickie Adams.
The family would like to extend our warmest thanks to Country Village Memory Care and nursing staff in Angleton for the special care they gave our "Memaw". We would also like to thank A-Med Hospice and UTMB Angleton's nursing staff for their special care.
Final arrangements will be by the Turner Family at the Lakewood Funeral Chapel.
Online condolences may be made to the family at www.lakewoodfuneralchapel.com
Memorial contributions may be made to the First Baptist Church of Freeport's Youth Camp fund or the First Baptist Church of Angleton's Fellowship Hall fund.