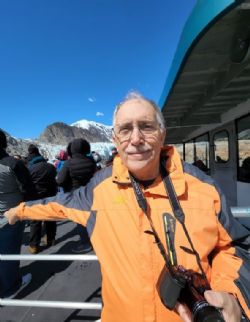 Raymond Paul Fortman

Raymond Paul Fortman
August 28, 1950 - July 14, 2022
Raymond "Ray" Paul Fortman, 71 passed away unexpectedly from complications of Prostate cancer on July 14, 2022.

A loving husband, step-father, brother, uncle, great-uncle, and friend to all his acquaintances, Ray will be remembered for his love of family, outdoor hiking adventures, ultra marathon bicycling, work ethic, honesty and sharp wit. He was a kind gentle soul who loved a good political debate and the banter between two prospective sides. Ray was a member of an elite group of hikers known as the Adirondack 46ers who complete hikes of all the high peaks in the Adirondack Mountains. He was also an Ultra-Marathon bicyclist who competed in many events across the country. One of his favorite rides was an event that started in Boston, Massachusetts and went to Montreal, Canada and back to Boston. He rode many events consisting of various distances from 100km to 750km. Ray rode in many 24 hour events including one in Michigan. He hosted his own 24 hour event in Saratoga, New York called the Saratoga 24 whereas riders rode as many miles as they could on a closed course for a 24 hour period. After retirement Ray became interested in photography posting many beautiful photos on Facebook to share with friends. He also became an avid boating enthusiast owning two antique boats which he enjoyed at his summer home on Lake Ontario.

Raymond was born August 28, 1950 in Tonawanda, New York to Phyllis and Theodore Fortman. As a young child he lived in Poughkeepsie, New York for several years later returning to Tonawanda, New York graduating high school in 1968 from Tonawanda High School. After high school Ray attended SUNY Albany in Albany, New York graduating in 1972 with a Bachelor of Science degree in Political Science. Upon graduation Ray remained in the Albany area working at various retail establishments including Almart and Montgomery Wards. In 1984 Ray joined Sysco Foods in Albany, New York where he first worked at their cash and carry store as a manager, eventually being promoted to an office position where he was in charge of inbound transportation. In 2005 Ray was again promoted to a corporate position with Sysco in Houston, Texas where he was Director of Transportation Operations Support until he retired in June 2014. During his employment with Sysco Corporation he lived in Katy, Texas with a vacation home in Surfside Beach Texas. Upon his retirement Ray resided in Surfside Beach and Clute, Texas until his passing.

Ray was preceded in death by his parents, Phyllis Kumlander and Theodore Fortman. He is survived by his wife of 21 years, Deborah (Helmerci) Fortman, a step-daughter, Corinne Donah and her partner Glacy Page of Laporte, Texas, a brother, Douglas Fortman and his wife Katherine of Pattersonville, New York, a sister, Kathy (Fortman) Murphy and her husband Robert of Beaver Creek, Ohio. He is also survived by 4 nieces and 2 nephews plus 3 grand-nieces and 1 grand-nephew.

A memorial service will be held at a later date at the discretion of his family at their Lake Ontario New York home.

Donations may be made in his Honor to the American Cancer Society / Prostate Cancer Research Foundation.