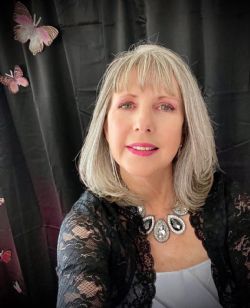 Vicki Lynn Wunderlich

Vicki Lynn Wunderlich
March 24, 1954 - September 16, 2022
The Going Away Party for Vicki Wunderlich, age 68 of Lake Jackson, Texas will be held at 11:00 am on September 24, 2022 at the Lake Jackson Church of Christ at 402 Center Way, Lake Jackson, Texas. You are invited to stay for the potluck luncheon immediately after in the fellowship hall. Vicki wanted everyone to join. Come wearing purple and any dragonfly jewelry you may have.



Vicki was born in Lubbock Texas at Methodist Hospital March 24, 1954. When she was six months old the family moved to Abilene, Texas for her dad's job. They lived there for one year and then moved back to Lubbock. Vicki's family then moved to Ft. Lauderdale, Florida for job opportunities in a 1956. Over the next nine years she had three more siblings, Michele, Sandy, Mary. Vicki and her family were members of the Andrews Ave., Church of Christ in Ft. Lauderdale where she participated in the youth group. She attended Plantation High School graduating in 1972. Vicki loved to sing. She was very active in her school choir and was a member of the Broward County traveling choir. She had a beautiful soprano voice. She also held a degree as a dental lab technician as well as a certificate in photography.


She worked many retail positions and banking positions. She also did modeling jobs on the side, as we all know how beautiful she is. She ended up in her late 20's living in Orlando Florida and working as a legal secretary to a local attorney.

Vicki decided to make a total life change and moved back to Texas to be closer to her family in 1984. She settled in Lake Jackson. She attended the Lake Jackson church of Christ as well as making the drive into Houston regularly to attend the Westbury church of Christ where she eventually met Mike, her future husband and her life changed forever. Soon, their first child, Tiffany was born followed four years later by the birth of Travis. The family moved from Pasadena, to Pearland, to Rosharon then back to Lake Jackson. She lovingly spent many hours with her children doing things every day, from art projects to BMX bicycle riding. She was their homeschool teacher and bible class teacher. Once she had grandchildren, "Gigi" gave them the same love and attention. Maybe even more. Vicki was the perfect example of a loving wife, mother and grandmother. Vicki loved her Houston Astros. She loved watching and going to as many games as she could. Watching the Astros win was almost the very last thing she did before she left us.



Vicki remained a strong Christian servant all her life. She served faithfully, and at times exhaustively, in every congregation she attended, enjoying every minute of serving children, the congregation and the community. She strove to model the life of a wife of noble character found in Proverbs 31.



Vicki is survived by her husband, Mike, her daughter Tiffany and son-in-law Shaun, her son Travis and daughter-in-law Cindy, and her grandchildren Carlie, Khloe, Kane and Koralie. She is one of four sisters which include Sandy, Michele and Mary. She likes their husbands a little bit too.



She is proceeded in death by her father Travis Roper and her mother Paula Roper as well as her father-in-law, Travis Wunderlich.



In lieu of flowers, please make memorial donations to the Lake Jackson Church of Christ and note either the children's ministry or the Disaster Assistance ministry.