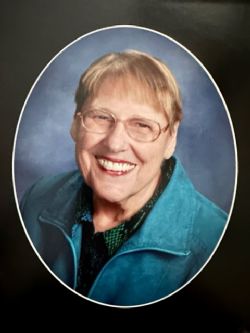 Harriet Elizabeth Whiteside

Harriet Elizabeth Whiteside
January 22, 1930 - October 22, 2022
Harriet Elizabeth Stanford Whiteside was born in San Antonio, Texas, on January 22, 1930, and died on October 22, 2022, in Lake Jackson, Texas. She was preceded in death by her husband, Talmage Ray Whiteside, in 2016.
Harriet was one of five children born to Rev. Rosemond Edward and Elizabeth Gooch Wright Stanford. As the youngest, and only girl, Harriet experienced an adventurous and rambunctious childhood growing up with her older brothers, Edward, Harry, Earle, and David. She developed a lifelong love of reading that she later passed on to her children and grandchildren. Frequent childhood moves (ten to be exact) as the daughter of a United Methodist Minister proved challenging but helped Harriet develop a remarkable adaptability. Harriet didnít seem overly attached to particular places or things, but she never missed an opportunity to travel, and she enthusiastically embraced new experiences throughout her life.
Harriet graduated high school in 1946 and, as a sixteen-year-old, attended Southern Methodist University. She transferred to North Texas State College as a sophomore where she was introduced to Tal Whiteside by her older brother, Harry. Harriet and Tal reportedly fell in love at first sight. After a whirlwind 3-month romance, they married on July 24, 1948. Following their marriage, Harriet and Tal briefly lived in Austin, Texas, before moving to Canyon, Texas, where their daughters, Kathleen and Ann, were born. In 1951 they moved to Huntsville, Texas, where their children Allen and Rosemary were born. Harriet returned to college during this time and earned a Bachelor of Science from Sam Houston State Teachers College in 1962. In 1969, Harriet and Tal moved to Austin, Texas, where they lived until 2002 when they moved to Seattle, WA. In 2009, they returned to Texas and settled in Richwood and then Lake Jackson.
It was often said that Harriet was born ahead of her time. She was stubborn, determined, and independent. She didnít particularly embody the feminine norms of her day, and she was not your stereotypical homemaker, but she loved her family fiercely. Her 68-year marriage to Tal was a powerful example of love and commitment. She was a devoted public-school teacher for twenty years, first as an elementary school teacher in New Waverly and Huntsville, Texas, and then as a Jr. High and High School art teacher in Austin, Texas. Harriet had a strong sense of social justice and was a firm believer in standing up for anyone less fortunate. She was a friend to almost everyone she met. She was an avid consumer of information and continuously sought to learn new things. Creativity was key to who Harriet was, and it manifested itself in numerous ways from her meticulous sewing and needlework to her unique decorating style, her colorful flowerbeds, and her beautiful paintings. Her most prolific art period was during her eighties when she painted regularly with the Brazosport Art League. For many years Harriet sang with the church choir, first in Austin, then Seattle, and finally in Lake Jackson. Harrietís faith was vital to her and guided her life in every way. She was a lifelong member of the United Methodist Church, dedicated student of theology, and frequent church volunteer.
Harriet is survived by her children, Kathleen Lindsey (Erle) of Lake Jackson, TX, Ann Dalton (Bill) of Galax, VA, Allen Whiteside (Abby) of Peyton, CO, and Rosemary Whiteside (Dave Silldorff) of Seattle, WA, and her brother, Earle Stanford of Fort Worth, TX. Her six grandchildren are Heidi French Dees (Jeff), John French (Kari), Adrian Lindsey Grau (Steve), Drew Lindsey (Cassidy), Juliana Silldorff, and Isabella Silldorff. Her nine great-grandchildren are Hillary Dees Hauth (Matt), Jacob and Jeffrey French, Skyler Grau (Robert Waldrup), Spencer and Sutton Grau, and Mason, Morgan, and Madison Lindsey. Her great-great-grandchildren are Harper Hauth and Scarlett Waldrup. In addition, Harriet is survived by numerous nieces and nephews. Harriet was one of a kind. She will be greatly missed by all who knew and loved her.
A very special thank you is extended to the caregivers and staff at Carriage Inn and A-Med Hospice for the loving and loyal kindness and care they provided Harriet in her last years.

A memorial service will be held at 2:00 pm on Monday, November 7, 2022, at First United Methodist Church located at 404 Azalea St., Lake Jackson, Texas 77566. In lieu of flowers, memorials may be made to the First United Methodist Church, Brazosport Art League, or the Alzheimerís Association.