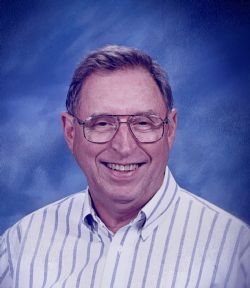 Calvin Leo Crosley

Calvin Leo Crosley
December 10, 1927 - October 30, 2022
Calvin Leo Crosley, 94, passed away peacefully Sunday, October 30, 2022, at his home in Lake Jackson with his family by his side.
Leo was born December 10, 1927 in Valley Mills, Texas to parents Lee Roy and Una Elder Crosley.
After graduating from high school in Seguin, Texas he enrolled at Texas A&M for two semesters until his money ran out, and then enlisted in the US Navy, where he served as a petty officer teaching pilots how to operate radar equipped aircraft during WWII. After finishing his service with the Navy, he returned to A&M to continue his degree in engineering.
In 1949, while a senior at A&M, he met the beautiful Georgia Hubbard at Lake McQueeney, Texas. Georgia was swept off her feet by the handsome Aggie Corpsman and the two would soon be married on August 27, 1950. After graduation, the couple moved to Freeport, Texas where he would start his career with Dow Chemical Co. This new job was soon to be interrupted in May 1951 when he was called up to serve in the US Army as a 1st Lieutenant for two years. After returning to Lake Jackson, their family continued to grow. They were ultimately blessed with eight children, Randy, Patti, Mark, Chuck, Teresa, Claire, John and Tom, 20 grandchildren and many great-grandchildren.
Leo had a 35-year career with Dow, serving in many managerial positions. After retiring in 1986, he founded HETP, Inc., a company that manufactures equipment used in chemical distillation processes, and which is operated by his son John today. Leo was very proud of the company he founded.
Leo is survived by Georgia, his wife of 72 years, and children Patti (Jeff) Heinrichs, Chuck (Anita) Crosley, Teresa (Mark) Gannaway, John (Kelly) Crosley and Tom (Karen) Crosley. He was preceded in death by his children, Mark, Claire and Randy.
Leo valued education, ensuring all his children received a university degree. He had a favorite saying, "I'll help you, if you can help yourself." He was a man of integrity, honesty, generosity, and love for his family.
A memorial service will be held at Lakewood Funeral Chapel in Lake Jackson on November 5, 2022 at 2 pm. Online condolences may be offered at Lakewoodfuneralchapel.com. In lieu of flowers, donations can be made to St Michael's Church - Society of St. Vincent de Paul or the charity of your choice.