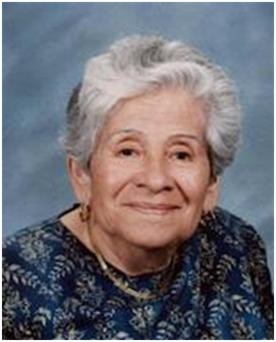 Juanita Cavazos

Juanita Cavazos
February 8, 1919 - April 5, 2011
Juanita Cavazos, 92, of Brooksville, Florida, formerly of Richwood, Texas, passed away Tuesday, April 5, 2011 at HPH Hospice.
She was born on February 8, 1919 in Mercedes, Texas. Until recently, Juanita was an area resident for 38 years.
She is preceded in death by her parents, Matias and Calixtra Cavazos; her daughter, Dalia Solis; 2 granddaughters, Denise and Dorinda Flores, her sister, Estefana Garza; her brothers, Reyes, Rafael, Matias, Bruno, and Francisco Cavazos.
She is survived by her 4 children: Robert Solis and wife Virginia of Sweeny, Texas, Merced Solis and wife Leah of Ledgewood, New Jersey, Viola Vera Freeman and husband Paul of Brooksville, Florida and Belia Solis of Lawrenceville, Georgia; 11 grandchildren: Bob Solis, Rick and Paula Solis, Michele and Mitchell Hernandez, Matthew, Michael and Mark Solis, Sylvia and John Esparza, James and Teri Vera, Nick Vera, Dalia and Danny Wright and Zenon Flores Jr. and 9 great-grandchildren. Juanita is also survived by 2 sisters, Rafi Soria of Angleton, Texas and Mary Cerda of Mission, Texas and 7 brothers Manual Cavazos, Hector Cavazos, Jose Mario Cavazos, Mateo Cavazos, Jose Angel Cavazos, Faustino Cavazos and George Cavazos all of Mission, Texas.
Pallbearers will be her grandsons, Bob, Rick and Michael Solis, James and Nick Vera and great-grandson, Denzel Wright.
The family will receive friends 3 to 9:00 p.m. Sunday, April 10, 2011 at Lakewood Funeral Chapel, 98 North Dixie Drive, Lake Jackson. A Rosary will be said at 7:00 pm. Funeral services will be at 10 a.m. Monday, April 11, 2011 at St. Michael's Catholic Church, 100 Oak Drive, Lake Jackson with Father Leo Wleczyk officiating. Burial will follow at Restwood Memorial Park in Lake Jackson.
Memorial contributions may be made to HPH Hospice in Brooksville, Florida.
Arrangements by the Turner family at Lakewood Funeral Chapel.