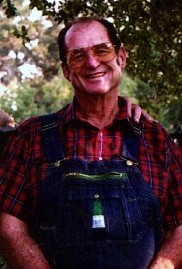 Edward H Gray

Edward H Gray
August 13, 1930 - May 5, 2011
Edward H. Gray, 80, of Brazoria, Texas passed away Thursday, May 5, 2011. He was born August 13, 1930 in Freeport, Texas to Alan (Brushy) and Allie Gray. Edward went to work for Dow Chemical at the age of 16. He entered the U.S. Army and served during the Korean Conflict. After the service he returned home and continued working as a heavy equipment operator at Dow for a total of 35 years.
He was a member of the Church of Christ in West Columbia, Texas. He was a man of many talents including carpentry and auto mechanics. Edward enjoyed spending time reading, building and flying model airplanes.
Edward is survived by his wife of 59 years, Barbara,
3 children: Cindy Turner and husband Richard, Linda Gray and Alan Gray,
3 grandchildren; Lynn, Krys, and Larry Turner,
sister, Janet Knellinger,
nephew Buster Knellinger,
nieces, Debbie Rogers and husband Randy, and Marilee Knellinger,
Uncle, Glenn Morris and a very special cousin, Carolyn Hinch and her husband John.

Funeral services will be 3pm Saturday at Lakewood Funeral Chapel with David Weaks officiating.
Interment will be at Cedar Lawn Haven of Rest in West Columbia, Texas.
Pall bearers will be Dexter and Damon Lewis, Jim and Jason Ruhmann, Tom Buchanan, Ed Dulak, and Walter Braddock. Honorary pall bearers are Freddie Brown, Luke Guidry, George Usrey, Bob Sutherland, Bobby Johnston, and Gene Mehaffey.

Daddy will be remembered for his perseverance and his sense of humor. But he will be remembered most of all for the tender loving care he gave to our mother and all of his family.

Arrangements are by the Turner family. On line condolences may be made to lakewoodfuneralchapel.com.