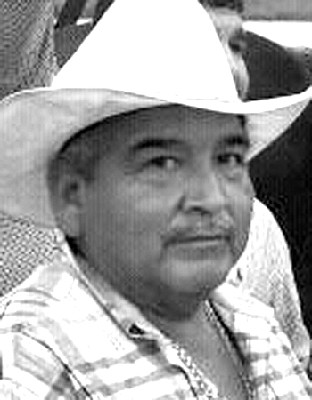 Guadalupe Velez

Guadalupe Velez
January 27, 1957 - June 13, 2011
Guadalupe Guel Velez Jr. went to be with the Lord on June 13th, 2011.

Born January 27, 1957 in Brownsville, Texas to Guadalupe and Antonia Velez, he lived in the Brazosport area over 40 years. His passion was cooking and spending quality time with his family. His hobby was horses and quarterhorse racing. He loved spending time at his ranch with his horse Flying Shot.

He is survived by his loving wife, Maribel De Leon Velez, of 37 years; his children, Guadalupe III (Dulce Julieta), Gerardo, Bertha, Maria and Gilbert, all, of Clute; grandchildren, Dalzy Cervantes, Amador Cervantes IV, Guadalupe Velez IV, Madison and Mercedes Velez, from Falfurrias, Texas, Layla Acuna, Fabian and Jaime Velez, of Clute; brothers and sisters, Rigoberto Velez (Adela), Joel Velez, Veronica Lopez (Rigo), Javier Velez, Maria Elena Cantu (Eulalio), Mary Jane Bass (Larry), Elizabeth Martinez (Santiago); and many nieces, nephews, aunts, uncles and cousins. He had a special bond with his nieces, Elisa DeLeon, Emily Martinez and Aida Velez, he loved them like his daughters; nephew, Ivan Lopez, that he loved like a son.

Visitation at Family Life Church of Lake Jackson, Thursday from 6 to 9 p.m.. Funeral service will be 10 a.m. Friday, interment following at Restwood.

I thought of you with love today, but that is nothing new. I thought about you yesterday, and days before that too. I think of you in silence. I often speak your name. All I have are memories and you picture in a frame. You memory is my keepsake with which I'll never part. God has you in His keeping, I have you in my heart.