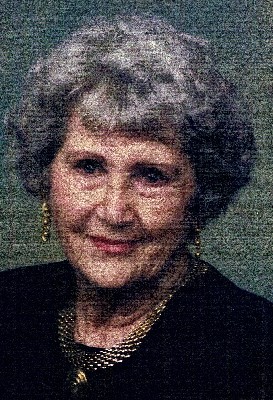 Reva K. Young

Reva K. Young
May 17, 1915 - June 21, 2011
Reva K. Young 96 of Cuero, former resident of Freeport, Texas left her earthly home on June 21, 2011.

She was born May 17th 1915 to William & Jewell Reis in Carl Junction, Missouri. As a very young child she learned to play the mandolin. She and her uncle won several contests. Her family moved to Parsons, Kansas when she was in high school. She graduated from Hays school in Lincoln, Kansas with high honors.
While living in Council Grove, Kansas she worked in the county clerk's office and for the probate judge of Morris County, Kansas.
She met and married Forrest G. Young while living in Council Grove, Kansas October 11, 1936.

Jobs were scarce there so they boarded a train and headed for Texas. Forrest went to work for Hughes Tool Company in Houston, Texas.
They became parents in 1941 of a baby boy, Jerry. In 1942 they welcomed a baby girl, Reva Kaye and then moved to Freeport in 1947. (They lived in a small one room trailer at Barefoot Trailer Park on 288 across from Dow). Forrest bought a shrimp boat. In 1947 Jerry died. In 1949 another daughter was born to the family, Cynthia Luanne.

Reva was a secretary at Dow Chemical and retired in 1980. She was a member of the First Christian Church in Freeport. Being a people person she was into many activities. She played the organ for church and at the nursing home. Her hobbies were bowling, AARP, home delivered meals , all church activities , Salvation Army ringing of the bell. She also wrote poetry, news for the pews for the church. Just loved doing things for others.

She was the last original home owner of the 1950's to leave her 5th street residence. . The days of children playing kick the can and hide and go seek in her front yard are long gone, but the memories still linger in our hearts.

Mother is survived by her daughters, Reva Kaye Uzzell ( Don) of Brownsville, Texas and Cynthia Hergotz, grandson's Jeffrey Hergotz & Bryan Hergotz all of Cuero, Texas.
Preceded in death by her loving husband of 47 years, son Gerald F. Young , parents and sister Joyce Barber and son-in-law Thomas P. Hergotz.

Visitation will be held Sunday June 26th from 5pm to 7pm at the Lakewood Funeral Chapel,
services will be held Monday June 27th at 10 am with the Rev. Gary McCormick officiating. Burial will follow at the Restwood Cemetery .